Secretary Mining Visits Parlanka Gypsum Mines, Reviews Mining Works In Ramban
07 October, 2022, By

Cross Town News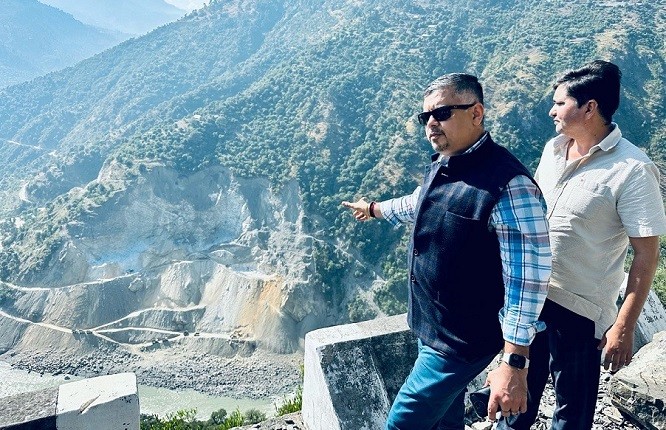 RAMBAN, OCTOBER 07: Secretary, Mining Department, Amit Sharma, today conducted an exhaustive visit of Gypsum Mines located at Parlanka in Ramban district being managed by Jammu and kashmir Minerals Limited. He also convened a review meeting regarding ongoing mining works in the district.
Managing Director, J&K Minerals, Vikram K Gupta and Manager, JKML, Parmod Khajuria and others accompanied the Secretary during the visit.
Secretary had firsthand account of ongoing gypsum mining works during which he was informed about the daily extraction, transportation, sales and supplies status of gypsum from Parlanka site. He was further apprised that these gypsum mines have helped the Corporation become self-sufficient to a great extent in last couple of years. This has greatly supported the Corporation in smooth conduct of routine affairs including timely payment of salaries and other dues.
Later, Secretary had a review meeting regarding current mining activities in the district.
District Mining Officer, Kulwant Singh, informed that two new mining blocks, one for Gypsum and other for River Bed Mining, have been recently identified in the district.
Secretary directed the concerned to expedite the requisite paper work of these newly explored gypsum sites so that the pressure on Parlanka mines can be reduced, as sole dependence for gypsum on Parlanka mines should be done away with, since Parlanka sites would get submerged in Chenab waters after commissioning of Sawlakote Hydel Project.
Secretary also discussed critical issues concerning the mining sector in the district with Additional District Development Commissioner and Assistant Commissioner especially regarding pending land acquisition cases. He asked for settling private land related issues at the earliest so that the public could get their legitimate compensation.
Amit Sharma mentioned that there should be full utilization of latest e-Governance initiative of department regarding launch of G2B2C Portal geologymining.jk.gov.in through which all transactions should be done through issuance of e-Challans only.
He asked the district authorities to organise more awareness camps on procurement of mining material through e-Marketplace on this website to achieve the objective of transparency and accountability without human intervention.