Union Joint Secretary Lauds Srinagar Admin For Achieving 100% Target On Digitization Of Land Records
22 September, 2022, By

Cross Town News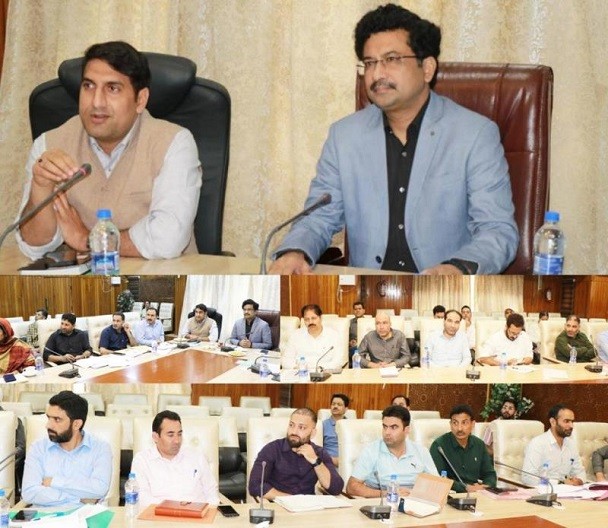 SRINAGAR, SEPTEMBER 21:- Union Joint Secretary, Department of Land Resources, Ministry of Rural Development, Sonmoni Borah, today reviewed progress on digitization and computerization of land records under Digital India Land Records Modernization Programme (DILRMP) in Srinagar.
He subsequently reviewed progress on the scheme in Ganderbal district as well. Deputy Commissioner, Srinagar, Mohammad Aijaz Asad, Regional Director Land Records & Survey, Nazir Ahmad Khawja, Additional Deputy Commissioner Srinagar, Dr Syed Haneef Balkhi, Additional Deputy Commissioner, Ganderbal, Farooq Ahmad Baba, besides ACR, Srinagar/Ganderbal, SDMs of Srinagar/Ganderbal, Tehsildars and other concerned officers were present in the meeting
On the occasion, Union Joint Secretary took a detailed assessment of recent initiatives of government like Land Records Information System, Survey of Villages Abadi and Mapping with Improvised Technology in Village Areas (SVAMITVA) besides Digital India Land Records Modernization Programme (DILRM).
He also assessed progress on various vital issues regarding encroachment drives, demarcation of Government land, status of mutations, progress of digitization of Jamabandis, status of Patwar Khana, etc Deputy Commissioner briefed the Union Joint Secretary about the functioning and achievements of Revenue Department in the District.
He informed that over 98 percent of landowners have been provided Land passbooks in the district while registration of properties is going on smoothly and integration of NGDRS portal with LRIS is also being worked out.
Union Joint Secretary lauded the efforts of district administration Srinagar in achieving almost 100% of the targets in digitization of revenue records and becoming the country's first district to achieve 100% saturation under SVAMITVA Yojana.
He said that adequate funding will be provided by the Union Ministry of Rural Development for establishment of Record Rooms in all the Tehsils of the district.
He added said that DoLR shall provide funding for establishment of Modern Record Rooms, upgradation of Registration Portal, etc.
Union Joint Secretary also asked the Revenue authorities to suggest reformative measures to bring further improvements in the registration process.