Circle Rates Are Very High, Causing Issues In Investment : CCI Jammu To Dr. Jitendra Singh
25 May, 2023, By

Cross Town News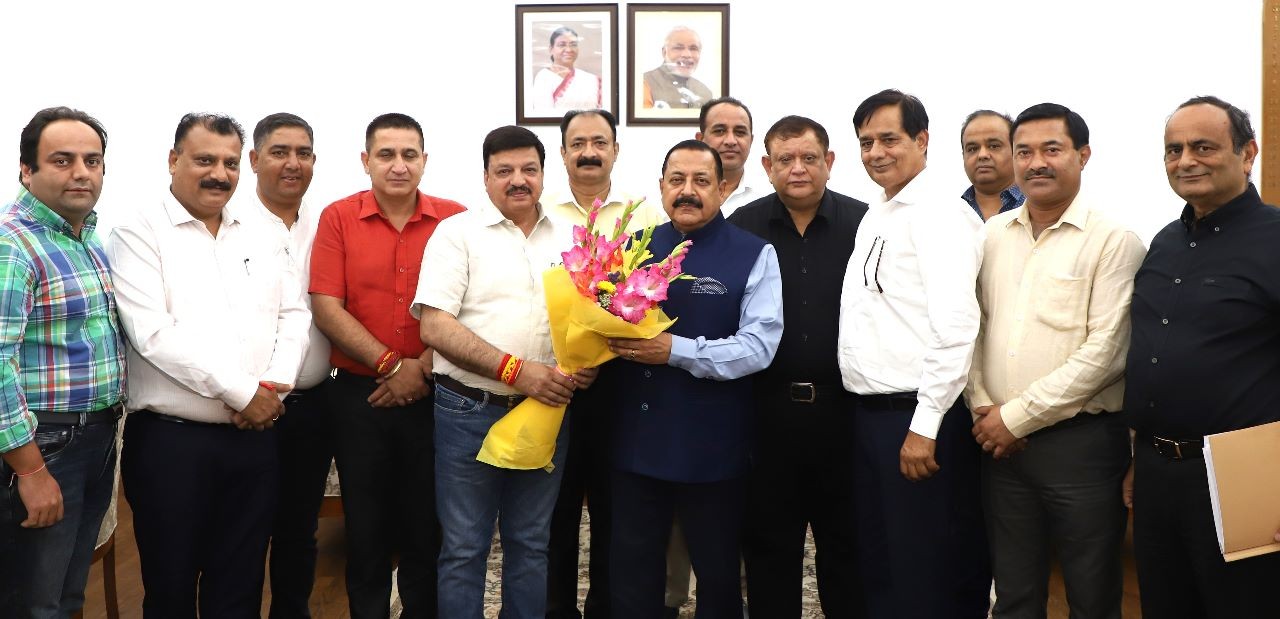 JAMMU, May 25: A delegation of Office bearers of Chamber of Commerce & Industry alongwith Sr. members from Trade and Industry under the Presidentship of Sh. Arun Gupta called on Dr. Jitendra Singh Hon'ble Union Minister of State(Independent charge) Ministry of Earth Sciences, Science and Technology, Minister of State PMO and Minister of State of Personal and Public Grievances.
At the outset Sh. Arun Gupta thanked Dr. Jitendra Singh for arranging the meeting with Smt. Nirmala Sitharaman , Hon'ble Union Finance Minster at New Delhi.
During interaction Sh. Arun Gupta apprised Dr. Jitendra Singh that the new investors are struggling hard to find suitable developed Industrial land for setting up their projects, but they are not getting proper place for investments due to existing land policy and the circle rates which are very high.
Sh. Arun Gupta also apprised Dr. Jitendra Singh that the existing Industrial units are not getting any kind of incentives in the new Industrial policy as a result, it is very difficult for the existing Industrial units of Jammu to survive.
Further there is urgent need to develop new housing colonies as well as commercial sites so that the educated unemployed youth who want to start their ventures for earning livelihood can be absorbed.
Sh. Arun Gupta also briefed Dr. Jitendra Singh that in the near future the rail is going upto Srinagar which will further effect the trade sector of Jammu. Thus there is urgent need to develop the untapped tourists places in Jammu so that tourists are attracted to visit the tourists places of Jammu Province which otherwise have been neglected so far.
We request that tourists potential of Jammu region together with tourists attractive places in Poonch,Rajouri districts should be tapped in right earnest. Similarly religiously important places like Shiv Khori, Mata Vaishno Devi ,Sudh Mahadev,Chichi Mata, Chandi Mata and tourists attractive places like Patnitop, Sanasar should be inter connected by improving road and erecting picnic spots on route. Historical natural water lakes like Mansar&Surinsar should be developed on modern lines to attract tourists.
Sh. Arun Gupta also requested Dr. Jitendra Singh that the CBI cases against the hoteliers of Patnitop be got solved at the earliest so that the commercial activities can be started over there.
Sh. Rajan Gupta, President JPDA raised the issue of Online supply of medicines and said that the same should be checked on priority by the concerned department so that it is ensured that no one can misuse the unchecked medicines of unfair means.
Sh. Deepak Gupta President Traders Federation Warehouse said that though the development is there but the small traders are being harassed.
Other Office Bearers of Chamber of Commerce & Industry present in the deputation who called on Dr. Jitendra Singh at New Delhi include Sh. Rajeev Gupta, Jr. Vice President, Sh. Manish Gupta, Secretary General, Sh. Rajesh Gupta, Secretary, Sh. Rajesh Gupta, Treasurer and other Trade Members who accompanied the delegation include Sh. Jagdish Langer, Sh. Yashpal Gupta, Sh. Pardeep Gandotra, Sh. Neeraj Gupta, Sh. Suraj Singh, Sh. Pragya Gandotra.