Arun Malhotra Of J&K Interacts With Kerala Women Footballers
22 March, 2023, By

Cross Town News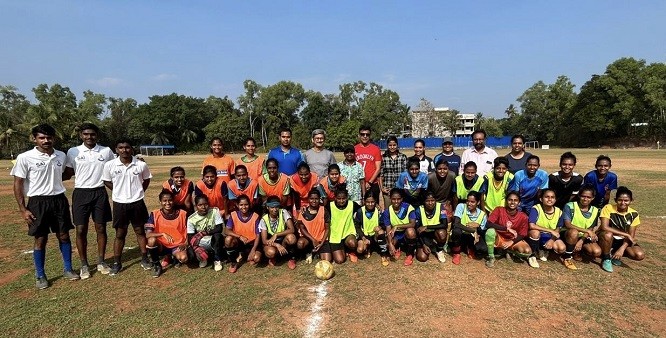 KOCHI, Mar 22:Arun Malhotra, former India footballer and member technical in All India Football Federation (AIFF) on a visit to Trivendrum today interacted with Kerala senior women football team at LNCPE (Lakshmibai National College of Physical Education).
Officials from Kerala Football Association (KFA), Council and Director LNCPE, Pradeep Dutta and chief coach Narinder Gangwar along with sports staff wer among those present.
Important to mention here that Kerala has a great history of football and produced players like I M Vijayan and other prominent India players.
Amidst giving them technical tips, Arun explained the changing scenario of the Indian football in the light of latest initiatives by the AIFF in the recent past.
"The two senior national football championships will be played in a new format that will see the 36 states fight it out across six groups for a chance to make it to the final round," informer Arun.
The six group toppers, along with three best second-placed teams will qualify for the final rounds of the Hero Senior Men's National Football Championship for the Santosh Trophy, while six group toppers, and the four best second-placed teams will make it to the Final Rounds of the Hero Senior Women's National Football Championship.
He also wished the team for the upcoming Senior National Football Tournament.

Groupings for the 76th Hero Senior Women's NFC
Group I: Haryana, Punjab, Sikkim, Telangana, Meghalaya, Nagaland.
Group II: Mizoram, Maharashtra, Kerala, Pondicherry, Uttarakhand, Chandigarh.
Group III: Odisha, Goa, Himachal Pradesh, Andhra Pradesh, Rajasthan, Tripura.
Group IV: Jharkhand, Delhi, Madhya Pradesh, Chhattisgarh, Jammu and Kashmir, Leh and Ladakh.
Group V: Tamil Nadu, West Bengal, Arunachal Pradesh, Daman and Dadra, Uttar Pradesh, Lakshadweep.
Group VI: Manipur, Assam, Karnataka, Gujarat, Bihar, Andaman and Nicobar.