Artistically Decorated Shri Mata Vaishno Devi Bhawan Ready To Welcome Chaitra Navratra
21 March, 2023, By

Cross Town News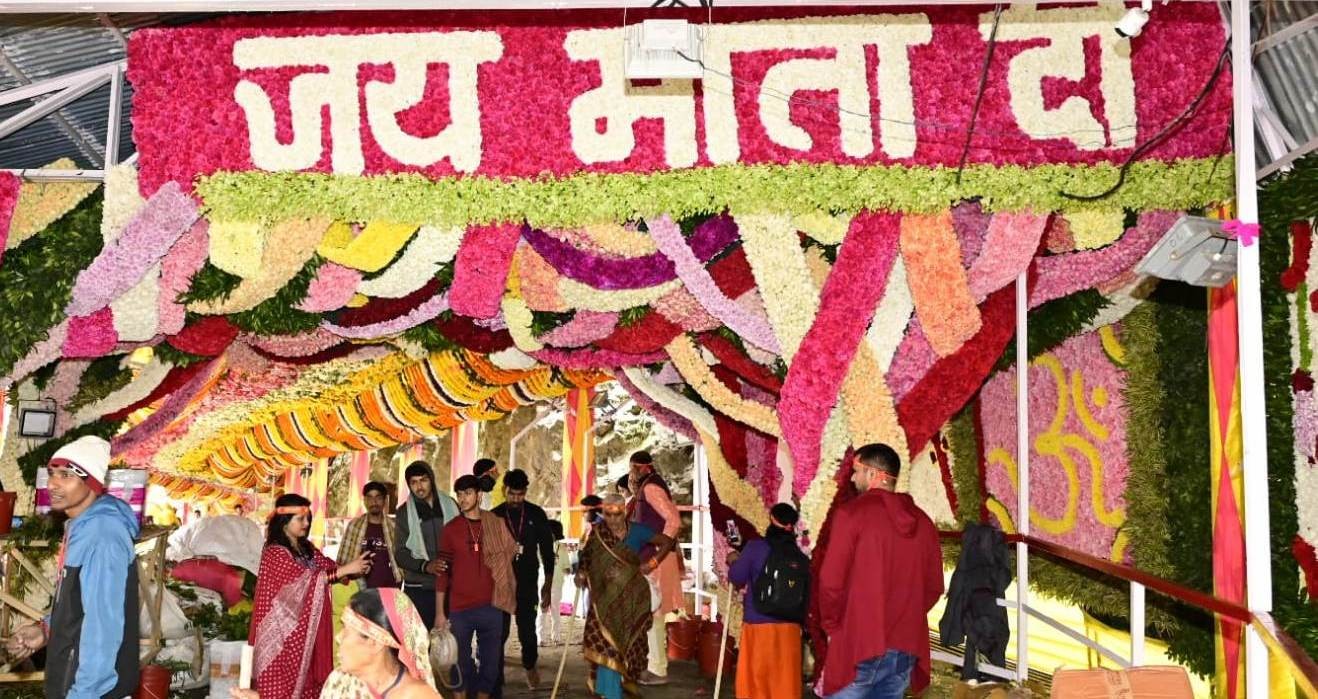 Katra, March 21: Adorned with thousands of multi-hued flowers, the holy shrine of Mata Vaishno Devi Ji is all set to host pilgrims who are expected to visit the shrine of Mata Vaishno Devi Ji in large numbers during the ensuing nine-day Navratras beginning from March 22.
Noteworthy that before commencement of Navratra, the Chairman, Shri Mata Vaishno Devi Shrine Board (LG, JKUT) already dedicated a 5-storey Durga Bhawan to the pilgrims on March 18.
The building has provision to accommodate 3000 pilgrims on a daily basis, bound to give a new shape and structure to the comforts and convenience of the pilgrims visiting the Holy Shrine.
The Bhawan is equipped with free and paid accommodation alongwith washroom, locker facilities, a prasad counter and aesthetically designed Tripti Bhojanalya and buffet for providing hygienic and wholesome food at nominal rates for the convenience of the devotees. Anshul Garg, Chief Executive Officer, Shri Mata Vaishno Devi Shrine Board (SMVDSB) reviewed the arrangements being put in place for pilgrims on the track and other locations which include round-the-clock water and power supply along the track leading to the shrine, sanitation, medicare and availability of special "fast-related" food at the catering outlets of the Shrine Board.
As was done during the Shardiya Navratra, the Shrine Board shall continue to deliver special facilities to the Divyangjan which includes pony and battery car services on complimentary basis, besides, priority darshans at sanctum sanctorum during these Navratras. Arrangements have also been made for a 'Shat Chandi Maha Yagya' at the shrine for peace, prosperity and good health of mankind.
The 'yagya' will be telecast live from 11.30 AM to 12:30 PM every day during Navratra. In addition, there will be 'bhajan' and 'bhaint' performances by the renowned artists during morning and evening Atka Aarti to add a spiritual fervour for the visiting pilgrims. It is pertinent to mention that the Aatka Aarti area stands remodelled to accumulate over 500 pilgrims in every session, thus doubling the existing capacity. CEO asked all Area/Unit Head and engineers of the board to personally take stock of the arrangements on ground in their respective areas of responsibility on a daily basis and ensure sanitation and cleanliness besides other requisite arrangements. The CEO said, "We have to double our efforts to meet the rising expectations of pilgrims so that they go back with a pleasant experience and happy memories.
The CEO appealed to the pilgrims that all the pilgrim-centric facilities including helicopter tickets, battery car, accommodation, Aarti Darshan, Havan and donation can be booked online through the Official Website of Shrine Board: www.maavaishnodevi.org and MATA VAISHNO DEVI APP, only. The Board has not authorized any agent, agency or person to use the Shrine Board's name to sell or undertake online bookings for any services which are being provided by Shri Mata Vaishno Devi Shrine Board.
He also said all routes leading to the holy shrine must be fully maintained for smooth movement of pilgrims apart from ensuring sufficient supplies of provisions, food, water, etc, along the track. A meeting to review security and Yatra management arrangement in-coordination with security agencies already presided by the Chief Executive Officer for action on diverse fronts for hassle free pilgrimage including issuance and verification of RFID cards, effective crowd management, augmentation of holding areas, working out plans for decongestion of the entire track, particularly the Bhawan area, separation of entry, exit routes at Bhawan and all time surveillance through dedicated CCTV network of over 700 cameras.