If There Is Peace In J&K, Then Why Assembly Elections Not Taking Place: All Parties
12 March, 2023, By

Cross Town News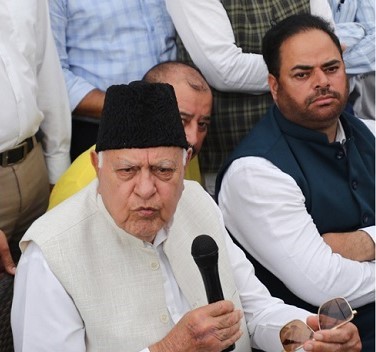 Srinagar, March 11: Dr Farooq Abdullah today chaired a meeting with leaders of more than a dozen parties which ended with the decision to meet the Election Commission in New Delhi for an early Assembly election in Jammu & Kashmir and restoration of its Statehood.
Congress president Vikar Rasool Wani, Working President Raman Bhalla, CPI(M) leader M Y Tarigami, PDP leader Amrik Singh Reen, National Panthers Party leader Harsh Dev Singh, Awami National Conference (ANC) leader Muzaffar Shah, Aam Aadmi Party (AAP) leader and District Development Council member Taranjit Singh Tony, Dogra Sadar Sabha president Gulchain Singh Charak, Shiv Sena (UTB) leader Manish Sahni and Mission Statehood president Sunil Dimple were among others present in the meet.
All leaders put forth their view point and it was unanimously decided that we will go to Delhi and meet the national leaders to brief them about the issues being faced by the people.
they said if there is peace in J&K, then why not the Assembly Elections be held,
Abdullah added that they will call on the Election Commission and would also invite the national leaders in the meeting to seek early elections in the Union Territory.