DDC Kishtwar Stresses On Working In Synergy, Achieve Targets In Stipulated Time
22 January, 2023, By

Cross Town News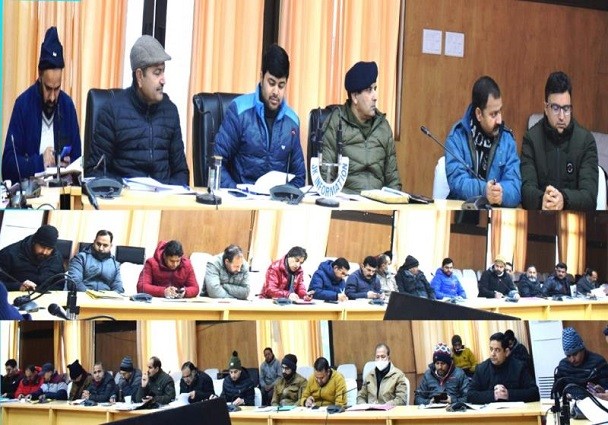 KISHTWAR, JANUARY 21: District Development Commissioner (DDC) Kishtwar Dr Devansh Yadav IAS today reviewed the developmental Scenario of District Kishtwar and reviewed sector wise achievements recorded under CAPEX and Centrally Sponsored Schemes here at a meeting with district and sectoral officers of held in the Conferences Hall DC Office Complex.
The meeting was attended by SSP, Khalil Poswal; Additional District Development Commissioner (ADDC), Sham Lal; ADC, Kishori Lal Sharma; Joint Director Planning, Mohammad Iqbal; ACR, Varunjeet Singh Charak; ACD, Atul Dutt Sharma; DPO, Sunil Bhutyal besides other concerned officers.
During the meeting, the DDC took detailed sector wise review of the physical and financial status of various works taken up under district Capex budget, MGNREGA, NABARD, PMAY, PMGSY, JJM, PMDP, and other schemes. Taking sector wise review and progress of works in RDD, Education, YS&S, Health and other sectors under District Capex and UT and centrally Sponsored Schemes, the DDC impressed upon timely completion and judicious utilization of funds.
Reviewing the working of Revenue Department, he was apprised that 54283 land passbooks have been distributed among land owners and 38645 kanal of state land (74%) has been evicted, 476 mutation applications have been approved, 94% of progress under digitisation of land have been recorded till date.
He stressed the concerned officers to expedite the pace to achieve set targets in a given time line. Besides, the progress of road connectivity including BT work and road safety audit under PMGSY, PWD & NHIDCL, implementation of NMBA, Aadhaar Seeding, ODF plus under SBM, Skill development and progress in the time bound redressal of public Grievances was also reviewed in the meeting.
During the meeting, the pace of progress on various mega, iconic projects was also reviewed and directions were passed to the concerned executing agencies to complete these projects of public importance in a time bound manner.
The bottlenecks faced by the executing agencies were also discussed in the meeting and necessary directions were issued to concerned departments. The departments were asked to work in synergy to give a flip to the developmental tempo of the District.
The District Development Commissioner also took a detailed review of works allotted, started on ground and works completed under the District Capex, NABARD, 14FC, ADP, JJM and PMDP. He directed the officers to achieve set targets ensuring expenditure of funds released.
He asked the officers to personally monitor the quality and progress on all allotted works besides accelerating the pace of ongoing works for time-bound completion.
The DDC was apprised that under District Capex Budget 2022-23, against the available funds of Rs 23356.67 lakh, an expenditure of Rs 20645.83 lakh, have been incurred so far which amounts to 88% expenditure, out of the total funds available.
He was apprised that 32210 works stands completed against the targeted 58042 under District Capex Budget. The Deputy Commissioner laid major focus on the Area Development Plan and for the holistic development of panchayats.
He underscored the need to improve utilization especially under Centrally Sponsored Schemes to access maximum funding by greater focus on projects under JJM and PMGSY etc.
While reviewing the progress made with regard to implementation of 129 tendered schemes of Jal Jeevan Mission in the district, DDC exhorted upon the executing agencies to expedite the allotment process and on-ground delivery. In the meeting,
DDC also took stock of the Back to Village program and was impressed by meticulous planning through a participatory approach for addressing the needs of the community at large with a special focus on achieving Swachh Grams.
During the meeting key developmental achievements were highlighted and discussed which includes free winter tuition camps under SAMAGRA for 3rd-8th class students, 2411 students from 9th-10th class provided free tuition under DMF, 7000 students getting free education from BYJU'S, establishment of library at Model Girls Hr. Sec. Kishtwar, Amenia Mukt Camps conducted by Social welfare Department, Warwan festival organised to boost tourism in district Kishtwar, Talaash Campaign launched to enroll back school dropout (OOSC), establishment of old age home by DSW, and establishment of Sarai & Drug De-addiction centre at District Hospital Kishtwar.