Asgar Samoon Conducts Two Day Tour Of Kishtwar
04 December, 2022, By

Cross Town News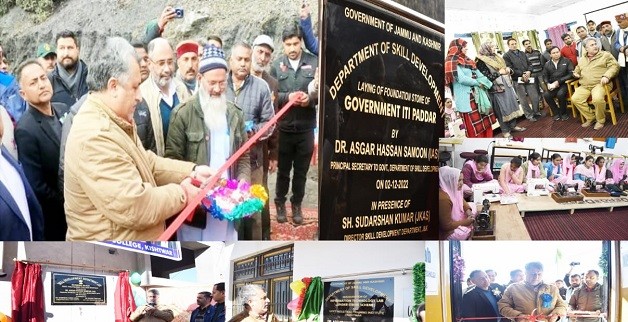 KISHTWAR, DECEMBER 03: Principal Secretary, Skill Development Department, Dr Asgar Hassan Samoon, laid foundation stone for development projects besides inaugurating several infrastructural utilities during his two day tour to Kishtwar district.
During the visit, Principal Secretary inaugurated academic block of Government Polytechnic College at Cherhar, Kishtwar.
Director Skill Development Department, Sudershan Kumar besides ADDC, Kishtwar, Sham Lal, ACD Kishtwar, Atul Dutt Sharma, SDM Paddar, Tehsildar Kishtwar, Principal of the institute and Engineers from PHE and PDD were present on the occasion.
Principal Secretary had an interactive session with the officers and college management.
Samoon also visited the Government Polytechnic College (temporary accommodation) at Kotwal Mohalla Kishtwar where he attended a cultural function organized by the institute. He presented awards to the meritorious students.
Later, Principal Secretary visited ITI Kishtwar and inspected functioning of the institute. He visited different sections of the ITI and took stock of various trades being imparted to the students there.
Principal Secretary inaugurated various facilities upgraded in the institute under Strive Scheme of SDD including Information Technology Laboratory, COPA trade and two post hydraulic lift.
Meanwhile, Principal Secretary apprised the Superintendent ITI Kishtwar, Mandeep Dogra for satisfactory functioning and development of the institute.
Earlier, Principal Secretary laid foundation stone for construction of Government Industrial Training Institute Paddar at Matti Paddar.
He was accompanied by Director SDD, Sudershan Kumar, BDC Chairman Paddar, Arpan Singh Rana, SDM Chhatroo/CEO, Kishtwar Development Authority, Inderjeet Singh Parihar, ACD Kishtwar, Atul Dutt Sharma, Principal ITI Kishtwar, Mandeep Dogra,Tehsildar Paddar, Satish Kumar Rana besides other officers and officials.
Dr Samoon passed necessary directions to the concerned executing agencies for time bound completion of all construction works.
Meanwhile, Principal Secretary also inspected the makeshift building of Government ITI Paddar at Gulab Garh and interacted with the faculty members and trainees of Plumber, Tailoring and COPA trades. He enquired the candidates about the course work and availability of infrastructure.
He also interacted with the local PRIs and listened to their issues besides seeking their suggestions regarding further up skilling of youth of the area. He assured them all possible support towards an early redressal to their issues and concerns.
He said that Paddar possesses vast tourism potential with high scope for border and adventure tourism development which can offer numerous opportunities to trekkers from across the world. He exhorted upon all stakeholders to contribute towards making the area the most tempting tourist destination in the Valley.
While highlighting wide scope for development of tourism sector in the area, he stressed upon the CEO KDA to encourage local youth towards taking up tourism sector as an alluring vocation for them. He asked him to work in collaboration with ITI Paddar so that self employment generation avenues could be utilized in the tourism sector.