Strengthen The Hands Of PM Narendra Modi: Kavinder Gupta To Public
29 October, 2022, By

Cross Town News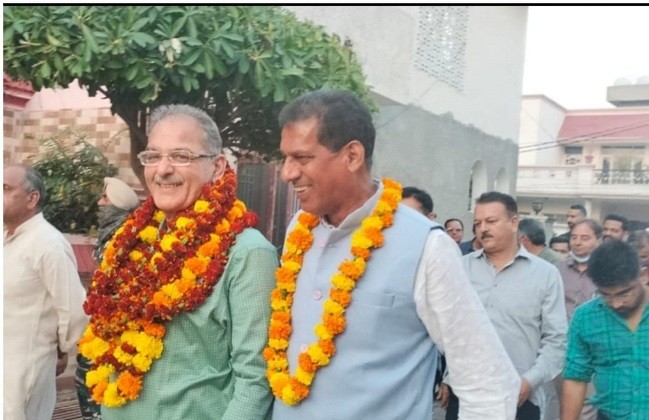 JAMMU, Oct 29: Senior BJP leader and former deputy chief minister Kavinder Gupta said that the party cadre is rendering selfless service to the people by working proactively at grassroots level and remaining in touch with masses.
The BJP stalwart was addressing a meeting convened as part of Jan Sampark Abhiyan here at Ward No. 53. Vinay Gupta District President, Ankush Gupta General Secretary, Neeraj Puri Corporator and Mandal President, Ajay Gupta Corporator, Rajesh Kumar Gupta, Daleep Gupta, Jagdish Langer, Nitin Thapa, Ajay Nadan and Manmeet Singh also accompanied the former Deputy Chief Minister.
The senior party functionary asserted that such meetings are the part and parcel of BJP's affairs as many vital decisions have been taken during such gatherings of the party leadership. He said that BJP being the party of masses and the biggest political outfit in the world has a greater responsibility to work for the welfare of common people.
Citing the outstanding work accomplished by the activists of the party during the COVID-19 times, he said that people of J&K were impressed by this party's dedication towards society because from providing food, medicines and monetary help to the affected lot, the BJP also ensured oxygen cylinders to the ailing population for days together.
"The role played by the BJP workers on the ground zero during corona times is still fresh in the minds of people and they know that there is no alternative to this party in J&K", Kavinder said, adding that today also meetings with common people are being convened to have firsthand knowledge about their issues and demands, and swift actions were taken to resolve the same at the earliest.
The former Deputy Chief Minister said that party workers are the backbone of BJP and therefore it is the duty of these ambassadors of the party to strengthen the party base at ground level. He asked the people to extend wholehearted support to the only nationalist party in the country and strengthen the hands of PM Narendra Modi.
Later, Rajinder Koul was nominated as President of Ward No. 53. He assured to work for strengthening the party and disseminating information about BJP's plans and policies among the masses.