Why NC/PDP Never Elevated Any Hindu To The Post Of CM In J&K ? : Vibodh Gupta
26 October, 2022, By

Cross Town News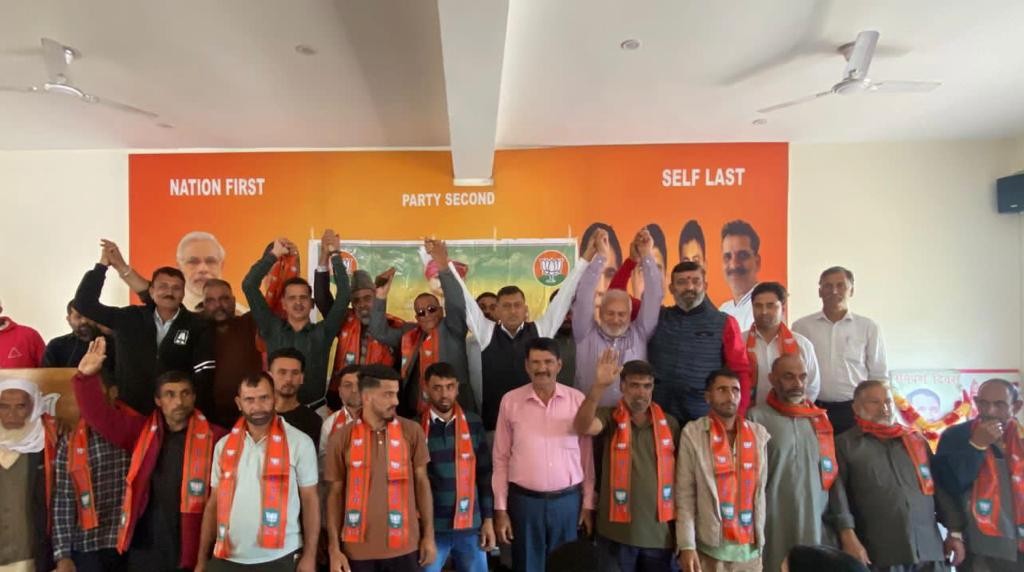 JAMMU, Oct 26: BJP Jammu and Kashmir General Secretary and former MLC Vibodh Gupta lambasted former Cheif Minister Mehooba Mufti and top Congress leader Shashi Tharoor for their communal and irresponsible remarks after the elevation of Rishi Sunak as UK's new Prime Minister while speaking in a party function organized to welcome new party entrants at BJP headquarter Rajouri.

Vibodh questioned the failure of the National Conference and PDP to elevate any Hindu to the post of Chief Minister in Jammu and Kashmir in the last 7 decades and asked them to support a Hindu for J&K's CM in the next assembly election. "India, which had a Sikh Prime Minister for 10 years, 3 Muslim Presidents and one Sikh President, minorities in the defense of the country and in top judicial positions need not to learn about diversity and integrity from any other country," he added.

Retd.AD Handloom Ghulam Nabi Kamlak,Retd. Lecturer Mohd Rashid Khan, Panch Mushtaq Khan, Mohd Rafiq, Sarfraz Khan, Khadim Hussain, and Mohd Rashid Mohd along with dozen of their supporters joined BJP. Vibodh Gupta while welcoming the new entrants into the party fold said that it was the people-oriented policies of Prime Minister Narendra Modi-led BJP government that have won the hearts of all the people cutting across the country.

District President Rajinder Gupta also welcomed the new entrants into the party fold. He asserted that people from different backgrounds are joining Bharatiya Janata Party as leaders from all walks of life are impressed by the vision of Prime Minister Narinder Modi and want to contribute to his mission of New India. He also highlighted various projects and public-friendly schemes launched by the central government. Other senior BJP leaders who spoke on the occasion were Bharat Bushan Vaid, Subash Sharma, Ranjit Tara, Koushal Gupta, Qayoom Mir, AG Shawl, and Jahid Ahamad.