Promotional Camps In Chenani-Sudhmahadev-Mantalai And Udhampur-Pancheri Circuits
26 October, 2022, By

Cross Town News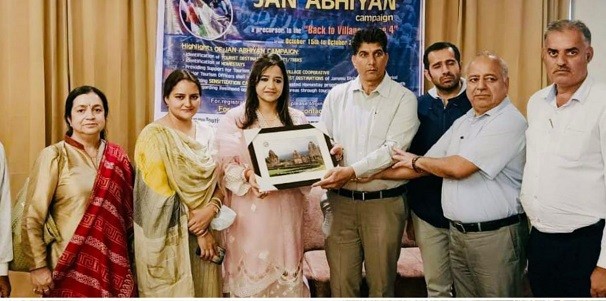 JAMMU, OCTOBER 25: Steering ahead the 'Tourism Promotional campaign' as a part of 'Jan Abhiyan B2V4' under the active guidance of Sarmad Hafeez, Secretary, Tourism Department J&K, the Directorate of Tourism Jammu is conducting multifold awareness camps in all districts of Jammu division with special focus on 'Homestay' identification and registration especially at the 'Off Beat Tourist Destinations'.
Continuing her week-long vigorous field tour, Joint Director Tourism Jammu, Sunaina Sharma Mehta today visited Udhampur district and held awareness cum sensitisation camps at Chennai and Udhampur. She laid special emphasis on the identification and mapping of tourist circuits, trekking routes, identification and capacity building of interested Homestay proprietors along with dissemination of information regarding tourism department policies like 'Homestay Registration Policy notified in June 2022', through the Tourist Reception Centres, roping on of NRLM self help groups and 'Village cooperatives' formulated through the cooperative department at various tourist destinations.
She was apprised that the Tourism department has recently registered several Homestays at Chenani and has identified around 30 more homestay properties which are under process for registration. She appreciated the formulation of local 'village cooperatives' at Mantalai, Sudhmahadev under the title of 'Universal Tourism' and 'Adventure Tourism', which are the 'Village level Tourism Promotion Clubs' for activating tourism related awareness in local areas.
These village level cooperatives are working actively for tourism promotion and capacity building of local youth volunteers regarding Homestay registration and sensitization about various tourism products especially themes like 'Agro /Rural Tourism' and 'Eco-Tourism' in Sudhmahadev and Mantalai areas. She appealed to the local youth to come forward to promote tourism of all tourist destinations of the Jammu Division and assured that the 'Village cooperatives' and 'Tourism Promotional Clubs' shall be formulated in all districts especially, the upcoming tourist areas.
She interacted with the BDC Chairman Chenani, BDC Chairman Pancheri, President Hotel Association Udhampur District, Naib Sarpanch Pancheri, local PRI members, travel trade stakeholders and youth volunteers who are interested in working in the Tourism sector.
During the day-long interactive awareness camps, the Joint Director Tourism elaborated about an action plan for development of 'Tourist Villages' and the 'Off Beat Tourist Destinations.'
"Pancheri, Sudhmahadev, Mantalai, Dudu and Kulwanta will be given special attention by the Tourism Department for their holistic development with regard to tapping the potential of adventure tourism, rural tourism, eco-tourism, heritage tourism among other tourism related activities. Special thrust shall be laid on public involvement in identification of new tourist destinations, trekking routes so that the demarcation and delineation of these tourist areas and trekking routes is done with a practical and public friendly approach" she informed. She also assured that all necessary support shall be extended to the interested persons for their capacity building as a Homestay proprietor and a Tourist Guide through the Food Crafts Institute Nagrota. The department shall hold such training camps so that all interested Homestay proprietors also get an opportunity to earn livelihood at their own villages and towns.
Prominent among those present during the day long awareness camps were Ambika Bali, BDC Chairman, Pancheri Jeevan Sharma; BDC Chairman Chenani Prakash; Assistant Director Tourism NHW Batote; Jyoti Koul, Tourist Officer Udhampur; President Hotel Association Udhampur, Vikram Singh Slathia; member Hotel Association Udhampur Ashok, registered Homestay owner Omkar Singh among other prominent personalities of Chenani, Sudhmahadev, Mantalai, Shankari Devta, Pancheri and Udhampur.