Sonu Visits Sites Of The Works Approved Under ABDP Plan: Interacts With PRI Members
22 October, 2022, By

Cross Town News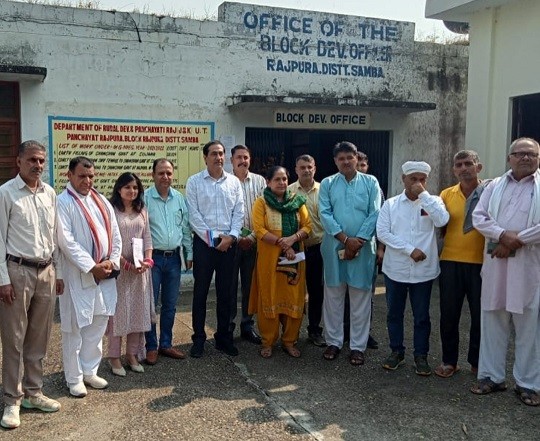 Samba, October 21: Sonu Pargal, JKAS, Deputy Secretary to Planning, Development and Monitoring Department, J&K visited Aspirational Block Rajpura of district Samba to review the progress of the Aspirational Block Development Programme (ABDP) and physical/ Financial progress of the works approved under ABDP Plan.
First of all, he visited the Block Headquarter Rajpura and participated in the multipurpose public camp organized at Block headquarter (Panchayat Rajpura)under Jan Abhiyan Programme (for the preparatory phase of Back to Village 4).
In the programme, the visiting officer held discussions with the officials of various departments and interacted with PRI members namely Sh. Radha Krishan- BDC Chairman, Smt. Asha Rani DDC member, Sh. Suresh Kumar- Sarpanch Pyt. Rajpura, Sh. Vinay Sharma- Sarpanch Pyt. Chak Dulma, & panches of various wards wherein works approved under ABDP Plan of Rajpura block were discussed.
The officer gave patient hearing to the deliberations held with the PRI members & general public.
Later on, Sonu Pargal along with BDO Rajpura & PRI members visited sites of the works approved under ABDP Plan viz. Establishment of Smart Library in panchayat Rajpura; Constt. of Nallah from Sh. Bhajan land to onwards at Chelyari , Panchayat Chachwal .