PM-GatiShakti Master Plan To Be Future Of Developmental Planning: Raghav Langer
12 October, 2022, By

Cross Town News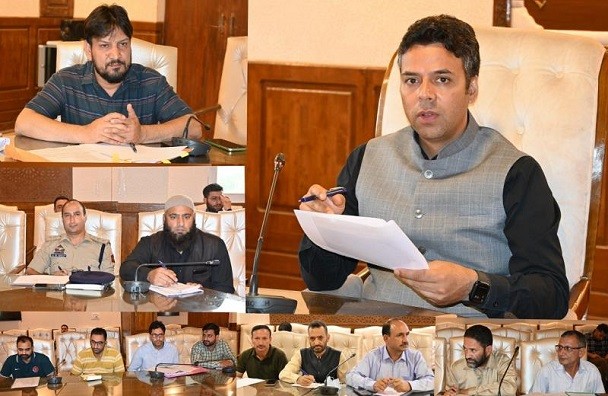 JAMMU, OCTOBER 12: Secretary, Planning Development and Monitoring Department (PD&MD), Dr Raghav Langer; who is also the Chairperson of Network Planning Group (NPG) in J&K under PM Gatishakti, today held a meeting to review the progress on implementation of PM GatiShakti Master Plan in the Union Territory. The Agenda included development of UT Master Plan, layering of data on PM GatiShakti Portal, framing of Logistic Policy, Preparation of Specific Action Plans by Administrative Departments for the years 2022-23 to 2024-25 etc.
Detailed discussions on the subject were held between the members of NPG consisting of Special/Additional Secretaries of 13 departments alongwith the Nodal Officers/Technical staff who had recently attended the training at BISAG-N Ahmedabad, Gujarat.
Secretary, PD&MD in his initial remarks emphasized the importance of Gati-Shakti Master Plan and its importance in future developmental Planning for Multi-modal Connectivity, common digital platform to bring all Ministries, Departments and other Government agencies nationwide together for integrated planning and coordinated implementation of infrastructure connectivity projects. The multi-modal connectivity will provide integrated and seamless connectivity for movement of people, goods and services from one mode of transport to another.
PM GatiShakti will incorporate the infrastructure schemes of various Ministries and State Governments like Bharatmala, Sagarmala, inland waterways, dry/land ports, UDAN etc. Economic Zones like textile clusters, pharmaceutical clusters, defense corridors, electronic parks, industrial corridors, fishing clusters, agri-zones will be covered to improve connectivity & make Indian businesses more competitive. It shall leverage technology extensively including spatial planning tools with ISRO and imagery developed by BISAG-N.
While concluding the meeting, Secretary PD&MD directed all the participants to get the desired information prepared in Excel Files & KML/ SHAPE Files and get it forwarded to the Nodal Officer BISAG-N, Ahmedabad, after due approval and authentication, for its uploading on the J&K PM Gatishakti Master Plan. A Special Team is being constituted with members from Directorate of Environment and Remote Sensing, J&K Economic Reconstruction Agency, Industries Department& IT Dept; having expertise in the field for getting the data layers updated on Master Plan in coordination with concerned Nodal Officer of the various Departments.
Director Industries & Commerce, Jammu/Kashmir were directed by the Secretary to identify high impact projects in coordination with line departments for seeking approval of GoI for incorporating in the Master Plan viz, Logistic hubs, development corridors, special economic zones, IT parks, satellite townships etc.
It is worthwhile to mention that GAD has already constituted three tier committees for the implementation of PM-GatiShakti Master Plan in the UT with Chief Secretary J&K heading the Empowered Group of Secretaries (EGoS); Network Planning Group (NPG) headed by Administrative Secretary Planning Development & Monitoring Department and Technical Support Units (TSU) headed by Director Industries & Commerce at the Divisional level.
The NPG meeting was attended by representatives of Finance Department, Agriculture Production Department, Industries and Commerce Department, Jal Shakti Department, Housing & Urban Development, Public Works (R&B) Department, Forest, Ecology and Environment Department, Revenue Department, Tourism Department, PD&MD, Transport Department, Mining Department, Civil Aviation Department, Power Development Department, School Education Department, Home Department, Higher Education Department, Health Department, DMRR&R Department, J&K ERA, Ecology, Environment & Remote Sensing, J&K, from Srinagar and Jammu besides officers of BISAG-N, Ahmedabad besides senior officers of Planning Department.