Arun Malhotra Of Jammu Nominated AIFF Technical Committee Member
04 September, 2022, By

Cross Town News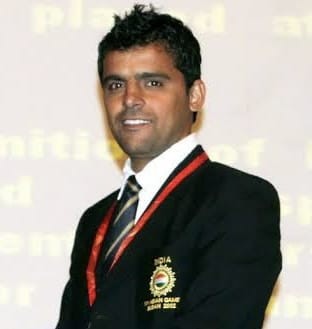 JAMMU, Sep 04 A prominent face of Jammu football and a Former international player from Jammu and Kashmir Arun Malhotra has been included in the six-member Technical Committee by the core group of the All India Football Federation (AIFF) today.
The high level decision taken by President AIFF Kalyan Chaubey, making technical committee is led by IM Vijayan as chairman and included five members, Eugeneson Lyngdoh, Climax Lawrence, Harjinder Singh, Arun Malhotra and Pinki Bompal as members.
Meanwhile, felicitations across India pour in for big achievement of a son of soil. Back home Member J&K Sports Council, Ranjit Kalra and Everest from J&K, Ram Singh Salathia and member trustee of Arun Sharma Sports and Social Welfare Trust congratulated him.
Arun, working in ONGC is probably a single player who conducts coaching camps in J&K since long. Recently he organised a coaching camp in Jammu where the huge overwhelming respond was received as both boys and girls attended the camp. A Sher-e-Kashmir and state awardee, Arun wanted to work for the game of football back home but the administrative hiccups made budding footballers of Jammu disappointed and hit the football progression hard. However, talent never hides, this time he was picked up and assigned with the task to look after AIFF affairs. Important to mention here that Arun was promised an assignment in J&K sports by then Advisor to Governor, Vijay Kumar but after he left J&K nothing has been done by the present administration. This is a major call for J&K administration to reconsider to tape local international talent to bring revolutionised change in football. Arun is always available to work in J&K to boost football.
"I had never expected in my life such an honour by the AIFF. It was a news for me. My former teammate Kalyan Chaubey has got the vision to turnaround the Indian Football. We need practical people to run sports affairs. I believe that all the good ideas will be translated into action under the able leadership. Having backing of majority of states, the support from the Government and also believe to change around things will definitely usher in new epoch of football in India. I'm sure things would be different in couple of years," said Arun while expressing his feelings
Earlier, a day after the All Indian Football Federation (AIFF) Executive Committee came into being, with former player Kalyan Chaubey as its president, it took its first major decision, appointing Shaji Prabhakaran as the new secretary-general today.
Chaubey chaired his first AIFF Executive Committee meeting at its headquarters, the Football House, and welcomed all the new members, including six eminent footballers who were co-opted in the body.
All the executive committee members, including vice-president NA Harris, treasurer Ajay Kipa and the six eminent footballers co-opted in the panel, except Bhaichung Bhutia, were present in the meeting.
Welcoming the members, Chaubey said, "This is the first time that six former eminent players are part of the committee as per the order of the Honourable Supreme Court. We need to work together, and at no time should any personal ego come as a roadblock on our endeavour to take Indian football forward together. Discipline is the key to success, and we need to be accountable as per the deadlines set."
He proposed Prabhakaran's name as the new secretary-general of the AIFF, which was unanimously approved by all the members.
"Dr. Shaji's previous experience as FIFA Regional Development Officer will bring in new and fresh ideas which will provide the much-needed fillip to Indian Football, " said Chaubey.
The Committee, as per the AIFF president's proposal, also unanimously appointed Sunando Dhar as the new deputy secretary-general of the AIFF.