Dullo Stresses Upon All The HoDs To Achieve The Given Deliverables Within The Assigned Guidelines
02 August, 2022, By

Cross Town News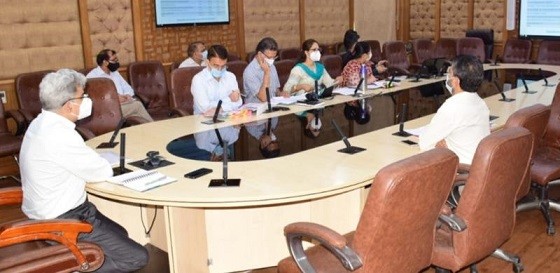 JAMMU, AUGUST 01:- Additional Chief Secretary (ACS), Agriculture Production Department (APD), Atal Dulloo today chaired a meeting to review the progress and performance of Animal/Sheep (A/S) Husbandry and Fisheries Departments under CAPEX 2022-23, Centrally Sponsored Schemes (CSS) and NABARD at Civil Secretariat here.
The meeting was attended by Director, Sheep Husbandry Kashmir/Jammu, Director Animal Husbandry Kashmir/Jammu, Special Secretary, Animal/Sheep Husbandry, Director Finance, Director, Fisheries J&K, other senior officers and officials of allied departments.
During the meeting, detailed deliberations were held on physical and financial progress made by the Departments under Capex 2022-23 and CSSs during the current financial year. While reviewing the progress on different parameters of various schemes by these departments, Dulloo directed all HoDs to gear up the field staff so that substantial progress under UT capex can be achieved.
He asked them to utilise the resources effectively so that maximum farmers are benefited from these schemes.
The ACS reiterated that the Line Departments should focus on implementation of beneficiary oriented schemes and asked them to submit progress reports on monthly basis.
He stressed upon all the HoD's to achieve the given deliverables within the assigned guidelines.
It was also revealed in the meeting that under Pradhan Mantri Matsya Samapada Yojana Fisheries Department has utilized Rs 611.79 lakhs against funding of Rs 707.48 lakhs.