Projects To Be Taken Up By NHB In J&K: Atal Dulloo
05 July, 2022, By

Cross Town News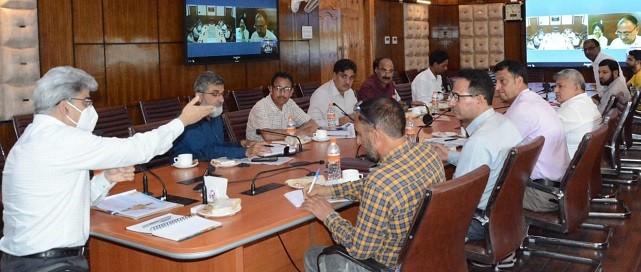 SRINAGAR, JULY 04: Additional Chief Secretary, Agriculture Production Department, Atal Dulloo today chaired the first meeting of the task force to discuss the implementation of projects to be taken up by the National Horticulture Board (NHB) in Jammu and Kashmir.
Secretary in Horticulture Department, Director Horticulture (P&M) J&K, Director Horticulture Kashmir/Jammu, Director Agriculture Kashmir/Jammu, Director Floriculture Kashmir/Jammu, representatives of Sher-e-Kashmir University of Agricultural Sciences & technology-Kashmir/Jammu and representatives Fruit Growers Association attended the meeting in person and through virtual mode.
At the outset, Deputy Director NHB, Sansar Ahmed gave a presentation wherein he explained different schemes administered by the Board and to be explored and subsequently implemented in Jammu and Kashmir Union Territory.
He project-wise briefed the meeting while elaborating all the listed schemes being administered by NHB viz Development of Commercial Horticulture through Production and Post-Harvest Management of Horticulture Crops; Capital Investment Subsidy Scheme for construction/Expansion/ Modernization of Cold Storage/Storages for Horticulture Products; Technology Development and Transfer for Promotion of Horticulture; Cluster Development Programme & PEQ facilities and Horticulture Promotion Service/expert services and Strengthening Capabilities of NHB.
He also elaborated on the role of NHB in the Indian Horticulture Industry, and highlighted the significance of these schemes, and added that the results would come in a significant manner.
He gave a list of schemes administered by the NHB that are being contemplated to be executed in the UT with a focus on cost norms, subsidy components and pattern of assistance from the Board.
The meeting held a threadbare discussion over the prospective and challenges in the horticulture sector for effective implementation of NHB Schemes in J&K.
It was told that the potential area of the UT includes temperate and sub-tropical fruit crops; varied climatic zones and natural resources available for boosting of Horticulture Sector. During the meeting, it was given out that NHB Schemes are credit-linked, highly innovative & Self entrepreneurship driven as the Government is promoting FPOs /Startups /FPC / SHG/ NGOs etc. in Horticulture Sector and promoting e-marketing by J&K government.
The meeting also discussed the Action Plan for generating the new projects under NHB Schemes which include the mass campaign for awareness & publicity at grass root level involving Govt. departments of Horticulture/ Agriculture/ HPM/ SAUs/ KVKs/ CITH/ NABARD etc.
While summing up the discussion, ACS Atal Dulloo impressed upon the concerned officers to submit proposals for different schemes with NHB both in Government and private sector so that the NHB schemes would be implemented at the earliest in order to reap maximum benefits of such schemes.
He also enquired from all the concerned departments about the proposals and the status of these proposals for submission with the NHB.