Winter Sports And Adventure Sports To Be Major Focus In Ladakh: Ravinder Kumar
30 December, 2021, By

Cross Town News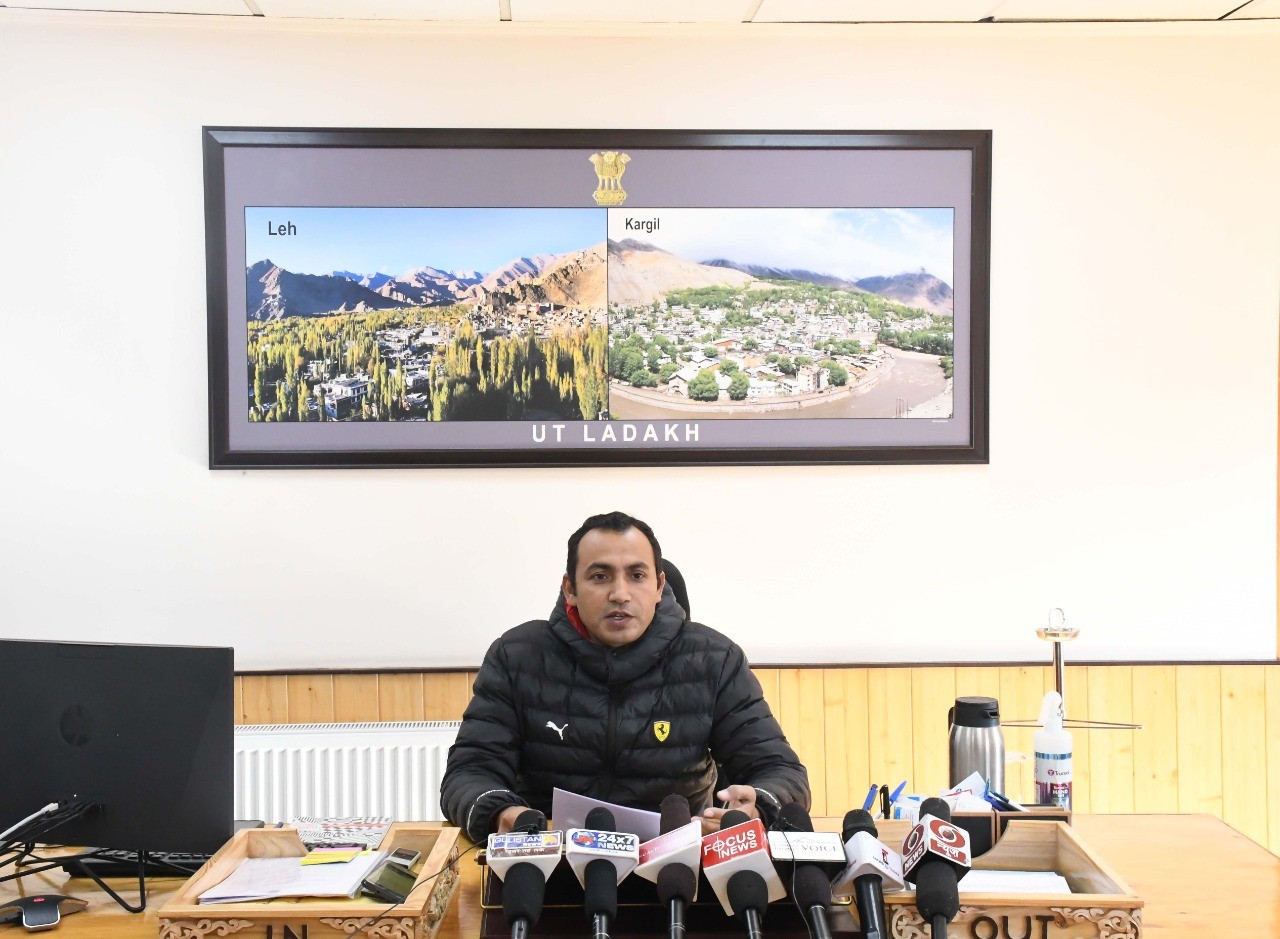 Leh, Dec 29: Secretary, Sports Department, Ravinder Kumar (IAS) interacted with media representatives of UT Ladakh. He informed about the development of sports infrastructure in UT Ladakh.
Below are the points discussed-
UNDER SPECIAL DEVELOPMENT PACKAGE (SDP)-
•
The work of laying of synthetic track and
AstroTurf
for football ground is ready for opening at the open stadium, near Airport Spituk Leh. Around 2,500 spectators pavilion is already completed and by the end of July 2022, the VIP stand shall be completed. A similar project for the Kargil district is in progress this season.
•
Development of Sports Infrastructure in schools in Leh and Kargil. 90% of work is already completed and the remaining work shall be completed soon.
•
The Department is constructing Ice Hockey Rinks at all the 10 Sub-divisions of Leh and Kargil. Till now, 20-30 % has been completed.
•
Construction/repairing of ponds with stand facilities for Pond Hockey at all the 31 blocks Of UT Ladakh.
•
Construction of Multi-Sports complex in Leh and Kargil. In this connection, the executing agency is preparing the master plan so that in the coming year UT Ladakh has a good number of sports complexes.
•
Construction of Sports Hostels and facilities for training at Leh and Kargil.
•
The Department is constructing the Winter Sports Academies at Zanskar and Drass which will also attract and promote winter tourism.
•
The Department of Youth Services and Sports, UT Ladakh is also constructing the Ice Hockey Rink which shall be open throughout the year, 24X7 hours. In this context, work is already in progress and expected to be completed by next year.
•
Laying of synthetic track and AstroTurf for football ground at Kargil and by the end of 2022, work shall be completed.
•
Construction of Horse Polo Stadium at Chuchot, district Leh and Drass, district Kargil. The work is still in progress.
•
Construction of Multipurpose Indoor Hall at NDS Sports Complex Leh under the USIS/Khelo India Scheme and the Hall is ready for the grand opening.
•
Construction of Gymnasium Hall Leh: The Department is also constructing a Gymnasium Hall at NDS Sports Complex, Leh, and shall be completed by 2022.
UNDER CHANGTHANG DEVELOPMENT PACKAGE- The department is also constructing Multi-Purpose Indoor Stadium at Chuchul, Shayok, Mud, Hanle, and Korzok with an estimated cost of 2.00 Crore each.
UNDER PRADHAN MANTRI JAAN VIKAS KARYA KARAM (PMJVK)- The department is constructing an open and indoor stadium at different places of UT Ladakh
UNDER STATE PLAN- The department is constructing a synthetic Volleyball Court at Indoor Stadium, Leh, the work is in progress and by the end of April 2022, it shall be complete.
FORMATION OF LADAKH SPORTS COUNCIL- Draft preparation is under process and expected to be ready before next season.
UT Ladakh teams have participated in National Archery Championship, cycling championship, and around 40 women are participating in the national ice hockey camp Kaza and the selection of Ice Hockey Teams (men and women) for the national championship is underway.
The department has also purchased archery, gymnastics, Ice hockey, and other sports equipment worth 1.58 crores which will help in developing the performance of the players.