Kalamkari Done On Sarees After Soaking In Milk: Abhinand
25 November, 2021, By

Cross Town News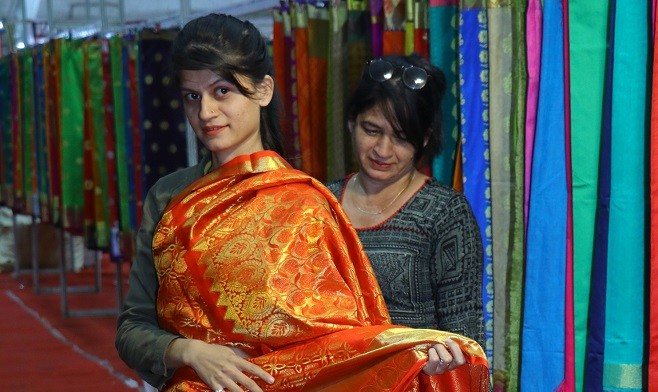 JAMMU, Nov 25: The scenes of Rama's exile, the Ram Darbar and the nature of the old temples of South India have been beautifully depicted by the weavers of Sri Kalahasti near Andhra Pradesh on Kalamkari Sarees, which are prepared after soaking in milk.
The smell of milk from Kalamkari Saree is its identity. Weavers have brought similar traditions and rare fabrics and Sarees in Jammu.
Weavers from 25 states of the country are displaying traditional art in the 'Silk India Exhibition' organized by Hastashilpi at Kala Kendra Jammu.
Organizer T Abhinand told that all the varieties of silk like Kota, Tussar, Moonga, Kanjeevaram Uppada, Soft silk, Khadi silk, Tissue silk, Dhaka silk are present in the exhibition in which weavers have put their lives to life with their fine art.
Babu, a weaver from Sri Kalahasti near Andhra Pradesh, has handcrafted beautiful Kalamkari at silk stalls. Sukumar from Kolkata has brought with him batik print sarees on his Tussar.
People also like the work of hand embroidery on organza silk. Its specialty is that its weight is much less than other silks. The special collection of Bhagalpur is also attracting the customers, in which the main ones are Linen, Matka, Kausa, Batik Suit, Madhumani etc. The collection of Banaras is also spreading its aura in beauty, in which the main ones are fabrics, suits, sarees etc, he said adding that it takes two months for an artisan to make a dress from the materials.
Their range is from Rs 11,000 to Rs 36,000 he said adding that today this material is available very rarely.
T Abhinand said that the exhibition will run till November 28 and invites all art lovers to see the art of silk weavers in this exhibition from 10:00 AM to 9:00 PM.