We Will Take Issue Of Abrogation Of J&K Special Status To Every Forum: PAGD
10 June, 2021, By

Cross Town News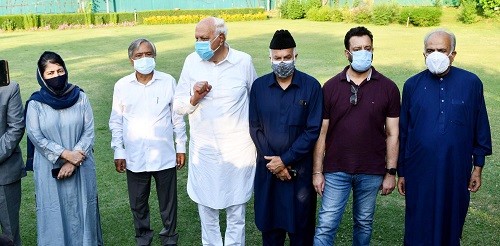 Srinagar, June 9: The PAGD met at the Gupkar residence of former chief minister and the alliance vice president Mehbooba Mufti, Srinagar, and discussed the current situation in J&K.
The PAGD said that it will continue to raise the issues confronted by people in Kashmir, Jammu and Ladakh & We will raise the issue of abrogation of special status of J&K at every forum, including Parliament & our doors are open for talks on this issue.
Dr Abdullah said that the PAGD will not initiate talks with anyone though will hold dialogue with anyone who approaches them.
Senior CPI (M) leader Mohammad Yusuf Tarigami has been appointed as the spokesperson for PAGD.