After Intervention Of Div Com Srinagar, Lawda Acts After 8 Years For Demolition But Stopped Again
13 January, 2021, By

Cross Town News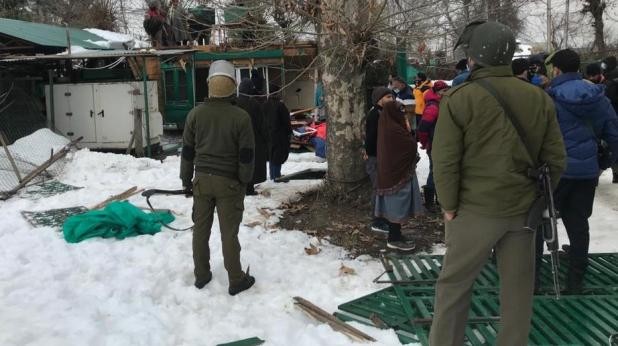 Srinagar, Jan 13: Lakes and Waterways Development Authority finally acted after the repeated complaints of residents and environmentalists and partially demolished a private hut in the tourism park on the West side of Nigeen Lake on Tuesday.
The demolition was however reportedly stopped after the owner of the hut, an influential businessman along with officials from the tourism department intervened and stopped LAWDA workers from razing it to ground, alleged head of an NGO which spearheaded the campaign for encroachment free Nigeen.
According to residents, the Tourism Department acquired 176 kanal and 18 marla of land on the Western shores of Nigeen Lake in early seventies for building a public park. However it was only in 2008 the land was converted into Joggers Park and named Cherry Park.
Reportedly, the entire stretch has been fenced by houseboat owners which is totally illegal one Councillor who spoke to CTN, however he fired a letter to Director Tourism over the issue as some of the encroachers are running an NGO for the construction of Nigeen Lake with having cohorts with some Tourism employees, so why they intervened and stopped LAWDA workers.
It further added that the said action was taken after the intervention of Div Com Srinagar.