Decline Of 25 % Vote Share Of BJP In Jammu Region In Just Over One Year: Rajni Patil
11 January, 2021, By

Cross Town News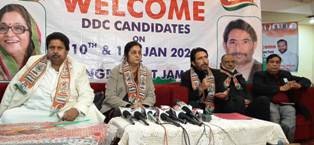 Jammu, Jan 11:Senior AICC Leader incharge J&K Party Affairs Smt Rajni Patil,Ex MP, said that decline of around twenty five percent vote share of BJP in Jammu region in just over one year of last Lok Sabha elections should worry the ruling party more than than camouflage by claiming victory in just five districts out of twenty districts in the hurriedly announced DDC elections.
Addressing s press conference here today, she said that BJP made every attempt to polarise the election atmosphere for vested political interests but congress is a unifying force and would not compromise on its inclusive policies for the sake of political interests, asserting that it would identify it shortcomings to emerge stronger wherever it lost.
Flanked by PCC President Shri G A Mir, She questioned the government for deliberately not keeping the provisions of Anti defection law and not declaring the roaster of reservation of DDC chairpersons, as per existing law, before the holding of DDC polls, thus keeping the doors of horse trading open
She said all over country where elections are held on party basis for panchayat bodies, the anti defection law is applied but here the government has not inserted such provision while holding election to the DDCs.
Again the roaster of reservation for DDC chairpersons is announcements prior to holding Elections but that too has not been done to deliberately keep suspense and for politics of horse trading open, which is unfortunate and illegal.
Smt Rajni Patil said that all provisions of 73rd and 74th were incorporated by the Congress during its coalition regime in Jammu and Kashmir.The reservation of 33 percent women besides SC and ST and Election of such number of women SC & ST is the result of Congress efforts.
She said the legislation for Finance Commission,, Election commission and ombudsman for panchayats was already made by Congress coalition government in Jammu and Kashmir but BJP delayed the implementation of these provisions.
Referring to the results of DDC Elections, she said that the BJP lost 25, percent vote share in Just one year from last Lok Sabha elections which reflects the disenchantment of people with BJP, while BJP is wrongly claiming victory. Out of twenty districts, BJP got majority on five districts only which shows that it's policies are not acceptable to the majority of the people in Jammu and Kashmir and it can't come to power again in future.
She said that Congress party would never compromise on it's inclusive policies and would continue to work as a unifying force which is important for the party more than victory or defeat. Congress has secured substantial votes in all diverse regions and its vote share has increased. However she said the party would identify the shortcomings to emerge further stronger wherever it lost especially in those districts of Jammu region.
Earlier AICC Incharge J and K party affairs smt Rajni Patil asked the newly elected and other contested DDC candidates of the party to remain in the service of the people in their respective constituencies and strengthen the party at grass root levels besides exposing the communal and divisive agenda of BJP.
Addressing a gathering of party candidates in the DDC elections and senior leaders of PCC, DCC and frontal wings, organised by JKPCC at Kangra Fort Jammu, Smt. Rajni Patil said that panchayat Raj is the gift of congress and73 rd and 74th amendment the brain child of late Rajiv Gandhi.
Congratulating the candidates for fighting the recently held Elections in the wake of heavy odds, she said party is fully behind them .she expressed satisfaction that the workers are upbeat and ready to take any challenge in near future.
She said that the party would gear up its activities through the length and breadth of Jammu and Kashmir and would launch a campaign for restoration of statehood and jobs and land guarantee to the people besides restoration of 4G services at the earliest.
She said different sections of people are agitating for various genuine rights but the BJP government is ignoring the sentiments of the people in the arrogance of Power.
She said that the farmers in the country are on war path due to pro capitalists policies of Modi government. The Congress would hold massive protest s through out country on Jan 15 to press for repeal of black laws and the unprecedented price hike of fuel.
The party candidates were felicitated by AICC leader and PCC leadership on the occasion for their contribution in strengthening democracy and congress party at grass root level. She asked the party leadership to identify the potential ground level leaders from amongst the DDC candidates and others for promoting in the party in future.
A prominent political leader of Gool Gulabgarh area Shri Gulzar Wani alongwith several supporters joined the congress party and welcomed by Smt Patil and PCC chief.
Later she flew back to New Delhi by afternoon flight.
Large no of senior leaders, former ministers, legislators, corporators attended the function which was addressed by several DDC candidates from each district of Jammu province.