LG For Providing Sustained Handholding For Talented Youth For Promotion/display Their Talent At National/international Level
09 January, 2021, By

Cross Town News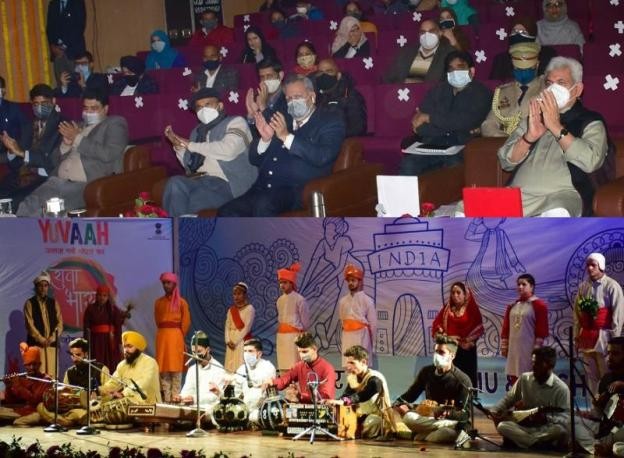 JAMMU, JANUARY 08: Lieutenant Governor, Manoj Sinha today participated in the National Youth Festival celebrations here at Teachers Bhawan, Jammu.
The Department of Youth services and Sports is organizing various events under the 24th National Youth Festival through physical/virtual mode, celebrated every year to commemorate the Birth Anniversary of Swami Vivekananda. Speaking on the occasion, the Lt Governor called for creating a robust ecosystem to promote the young talent of J&K.
Underscoring the significance of the event, the Lt Governor said that the aim is to provide a platform to bring the youth of the country together, giving opportunities to showcase their talents in various activities, promoting the spirit of communal harmony and brotherhood among the youth.
The National Youth Festival is not any other programme, but rather a festival in my opinion. Youth is a major driving force of a nation. It is to acknowledge this force, that we celebrate the National Youth Day, observed the Lt Governor. Youth of J&K needs opportunities to showcase their capabilities.
UT Government provides handholding to the talented youth of J&K for the promotion of their talent at national and international level, the Lt Governor said. Terming Youth as one of the greatest gifts to Jammu & Kashmir, the Lt Governor observed that 70 percent of the population is below the age of 35 years, giving a great demographic dividend, and the Youth of J&K are capable of producing nectar of growth and development.
"Development and growth is nothing but creative refinement of youth energy. The energy that is being manifested in our education, sports, skilling and creativity ultimately transforms into the development of the region", said the Lt Governor. "Socio-economic landscape of J&K is transforming. There is a new hope of jobs, hope of equitable development, hope of a vibrant society, hope of a modern- industrialized UT and this hope is going to become bigger every day because of the immense contribution of our youth, our talent pool", the Lt Governor observed. Quoting Swami Vivekananda, the Lt Governor said that a youngster must not dwell in the past and make his own destiny.
Sh. Nitishwar Kumar, Principal Secretary to the Lt Governor; Dr. Naseem Javaid Choudhary, Secretary, J&K Sports Council and scores of prominent artists were present on the occasion.