Jodhamal Student Avnit Malhotra Creates World Record
25 May, 2023, By

Cross Town News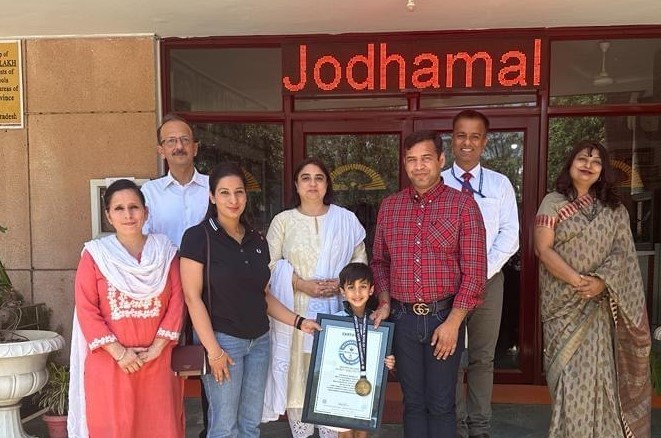 JAMMU: Five years old Avnit Malhotra, has created a World Record of 35 cartwheels in one minute for International Book of Records.

He has broken the earlier record of 32 cartwheels.
Avnit student of Jodhamal Public School Jammu, started preparing for the record in March 2023 and took help from his Coach Pawan Kumar and the guidance of his parents Dr. Charu Malhotra and Vinit Malhotra.

His video to attempt for the record was sent on 3rd of April 2023 to International Books of Records, while Avnit became eligible for the Record on 5th of April 2023, subsequently Officials verified videos and confirmed on 26th of April that Avnit Malhotra had created the International Book of Records of 35 cartwheels in one minute by breaking the earlier records of 32 cartwheels.

Recently this month, he was awarded with the International Book of Records Certificate and a Prestigious Medal.

Management, Principal Girish Kumar and Vice Principal Shefali Sanwal appreciated the efforts of Avnit Malhotra and congratulated proud parents for this prestigious record.
Parents Dr Charu Malhotra & Vinit Malhotra , Grand Parents Poonam Malhotra & Rakesh Malhotra, Aunt & Uncle Dr Priyanka Malhotra & Er Amit Malhotra have said that their child Avnit has made whole Jammu proud on his achievement.