Women In J&K Sports Are Inching Towards Glory, Taking A Leap Of Success Each New Day: CS J&K
21 May, 2023, By

Cross Town News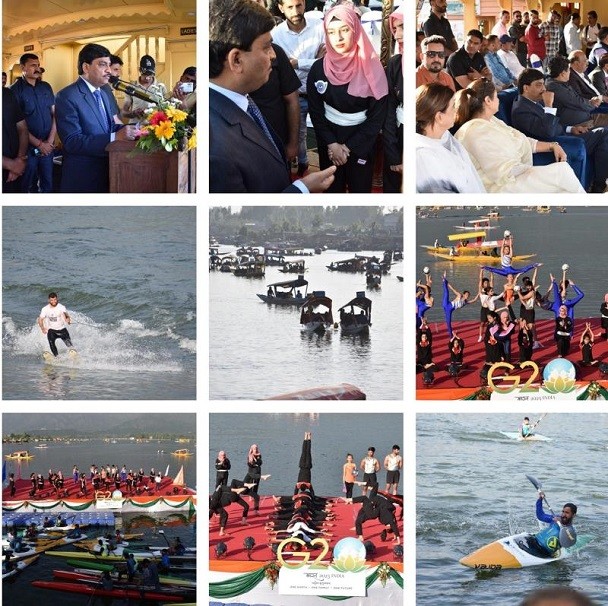 SRINAGAR MAY 20: As we leap towards a more inclusive and diverse society, it is important to make sure that women are given equal opportunities in all fields. Sports is no exception.
Through academies and centers, we can encourage women to pursue their passion for sports and provide the necessary resources for them to reach their full potential. In the past few years the female athletes of J&K have made incredible achievements.
From winning medals at national and international levels to breaking records and barriers, J&K women have truly paved the way with the continued support it has received from administration and not only has this achievement been celebrated too.
Our calendar of activities should prioritize the inclusion of women in all areas, including sports, with the right resources and support, women can achieve great things, this was said by Dr. Arun Kumar Mehta, Chief Secretary while attending the sports function held in the Dal lake to commemorate the G-20 Summit in J&K.
Dr. Mehta said that we are committed to providing opportunities for all, especially women, to excel in sports and our sincere efforts are commensurating with the amazing progress that our women achievers have made, and we will continue to build on that momentum.
Dr. Mehta also emphasized the inclusion of Golden Age vertical in the activity calendar of the J&K Sports Council for the healthier and fitter J&K.
Secretary Sports Council Nuzhat Gull said that with the kind of progress both in terms of activities and infrastructure that J&K has made in a few years, J&K players presumed to participants earlier have emerged as strong contenders
Meanwhile, the activities to commemorate G20 week in J&K were held elsewhere as well. In an enthralling cricket match played at TRC Cricket field Srinagar, teams of High Court and DC Srinagar locked horns with each other. Both teams put up a commendable show but it was DC Srinagar XI in the end prevailed over their opponents by 5 wickets, with 7 bowlings remaining to be bowled.
Though Highcourt XI put up a strong show scoring 138 runs in 15 overs for the loss of 5 wickets with Uzair putting up a stellar performance of 37 runs backed by Junaid's power surge at the end with a knock of 26 runs off of 9 balls, hitting 2 sixes and a four.
Abid was the lone star performer for DC, taking 2 wickets in 3 overs, and then blazing an impressive 39 runs off of 29 balls while at the crease.
Basharat and Abid also contributed with 21 and 23 runs respectively. For Highcourt, Adnan and Ishfaq were the pick of the bowlers taking 2 and 1 wickets respectively but it was not enough to stop DC XI from scaling the opponent's score with 7 balls remaining. In North Kashmir, Sheri Kashmir Sports Stadium of Bandipore witnessed a day filled with exhilarating sports activities.
Meanwhile J&K first international cricket Star Parveez Rasool also started a coaching and training cricket camp in district Anantnag where players from other districts of South Kashmir including Shopian, Kulgam and Pulwama are also part of the camp.