Withdraw Property Tax Notification First Then Hold Discussions: NC
13 March, 2023, By

Cross Town News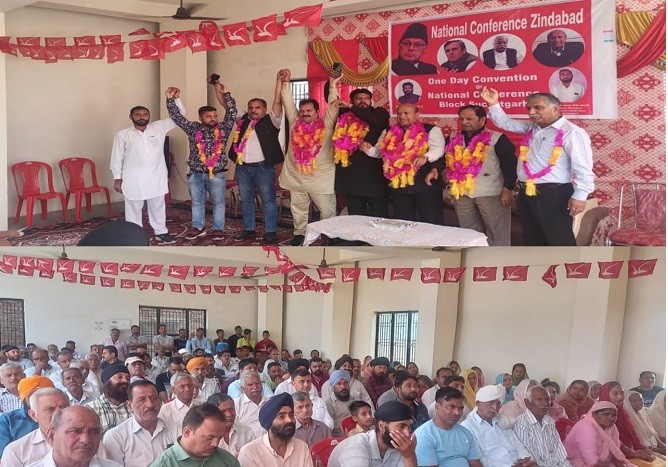 Suchetgarh, Mar 13: Rattan Lal Gupta, Provincial President Jammu and Kashmir National Conference (JKNC) Jammu has vociferously demanded that the LG administration must first and foremost withdraw property tax notification and then hold meaningful discussions with public elected representatives local bodies and stakeholders. He accused the government of only misleading and befooling the innocent people of Jammu and Kashmir in the garb of seeking suggestions from people just to cover up its failure to follow due process of law in imposing property tax.

The senior NC leader stated this while addressing a party workers meeting at border village Seer Balah in Suchetgarh constituency here today. The meeting was chaired by Mr Naresh Bittu District President Jammu Rural B and organized by Mr Jatinder Singh Block President Suchetgarh.

Rattan Lal Gupta lambasted the Union Territory Administration led by Lt Governor of having miserably failed on all fronts. He said that the Government at the Centre had been parroting that the places having tourism potential in J&K will be developed as per the international standards but nothing is visible on ground in this border areas which having solid potential of tourism and require attention from the Govt to develop the infrastructure.

Referring specially to border tourism, the senior NC leader said that today the famous Gharana Wetland of Jammu region which is the abode of migratory bird species in winter is lying in a deplorable condition and craving attention but the government seems to be least bothered.

The NC Provincial President asserted that virtually there is absolutely no development on ground in border areas as a result of which the border dwellers continue to be the worst victims of Government's apathy. While there is no availability of civic amenities such as drinking water, electricity, irrigation system and other medical facilities in the border areas, at the same time the promise of raising border battalion turned out to be a big joke for the border youth and a blatant betrayal by the Administration. He appealed to the Lt Governor Manoj Sinha to initiate measures for establishing Police Border Battalion at the earliest especially in the general interest of youth residing in border areas by starting on spot recruitment drive.

While urging the NC cadre especially the workers to gear up for the impending elections, Sheikh Bashir Ahmed, Provincial Secretary, Jammu, JKNC, asked them not to leave any stone unturned in ensuring party's unprecedented success. He also appealed to the people to further support and strengthen National Conference and vote for its candidates in the Assembly elections to end their miseries.

Others who were present : Vijay Lochan Provincial President SC Cell, Pardeep Bali Provincial Secretary Jammu, Th. Yashvardhan Singh Additional Spokesperson Jammu, Rakesh Singh Raka, Surjeet Singh Sasan Vice Presidents Central Zone, Dev Raj Block President R.S Pura , Madan Lal Block Secretary, Capt Sahil Singh, Capt Gulzar Singh, Mohinder Lal, Pawan Kumar, Rattan Lal Lambardar, Babli Kumari and others.