Shall Syed Abid Bring Positivity In Tourism Dept J&K Or .... ?
12 March, 2023, By

Cross Town News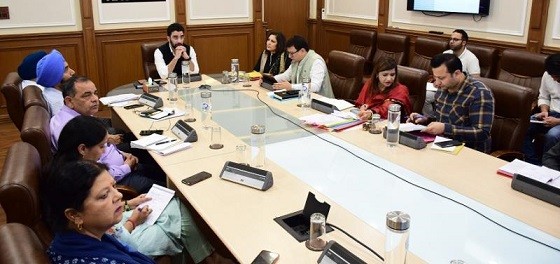 Ankit
JAMMU, MARCH 11: Shall incumbent Secrteary Tourism Syed Abid bring positive change in Tourism department or .....? this is the question surfacing across.
Lieutenant Governor Jammu and Kashmir Manoj Sinha and Chief Secretary Arun Mehta have taken important steps for J&K tourism , which are visible on ground with record number of Tourists visiting in J&K.
But the Tourism department Jammu and Kashmir never worked in tandem with what was required in ground.
Previous Secretary, Tourism never bothered to act on harassment issues of pubic & development of Dvelopment Authorites.
Pertinent to mention here that few days back he was transferred back from Tourism but within a gap of hour, he again got back charge of Tourism, speaks about his powers.
Previous Secretary Tourism not acted on finalization of Master Plan Of Patnitop Development Authority since years, otherwise using Bye Laws of MP of 2000 is illegal & unjustified, otherwise as per Development Act of 1970 after every 05 years Master Plan should be revised with Zonal Plans as per development of the areas.
It is also a truth that Patnitop is the best tourist spot in Jammu Province but questions on sleeping over of revised master plan & also of so called members of the said authority, which has stopped further development in the jurisdiction of Patnitop & moreover BOCA Chairman is also not acting on the building permissions as reported by some local , since long lot of building permissions pending under BOCA , which has stopped development & causing loss to Govt by way of Building Permission fee etc etc?
However while chairing the meeting of Tourism Department, Dr. Syed Abid had a comprehensive review of performance and functioning of all the agencies with an aim to assess the progress made by these organizations in execution of different ongoing works as well as in promoting tourism in the region and identify areas where improvements can be made.
The meeting also held detailed deliberation on various aspects related to development and promotion of tourism in Jammu and Kashmir, including infrastructure development, promotion of tourism, revenue generation, and implementation of various schemes and initiatives.
While reviewing performance of Directorates of Tourism Jammu/Kashmir, Dr. Abid emphasized on both the Directors to prepare a calendar of activities on monthly basis and organize events at their respective divisions & enjoined upon both the Directors to make J&K Tourism Application functional in one month which will act as one stop solution for facilitating tourists coming to Jammu and Kashmir.
He underscored that the application should contain the details of all tourist destinations, hotels and other recreational places.
Secretary further emphasized on the Director Tourism Jammu to revive the religious tourism circuits of Jammu region like Purmandal, Uttarbehni, Sukrala, Shiv Khori and others so that the tourists can have a larger stay in Jammu.
Dr. Abid assured the participants that the Government of Jammu and Kashmir is committed to promote tourism in the region and will continue to provide all necessary support to the Tourism Department, JKTDC, and others.
He also urged upon the organizations to redouble their efforts to promote tourism in the region and to take necessary steps to address the areas of concern. During the meeting, the concerned HoDs gave detailed presentations on progress and performance of their respective organizations.
Now, let us wait and watch & see, whether he will just keep show offs on, like Sarmad or realy work on ground in the interest of Govt & Public by seeking Action Taken Reports of previous meeting instructions?