Kavinder Slams Gehlot Govt For Disrespecting, Insulting Wives Of Pulwama Martyrs
09 March, 2023, By

Cross Town News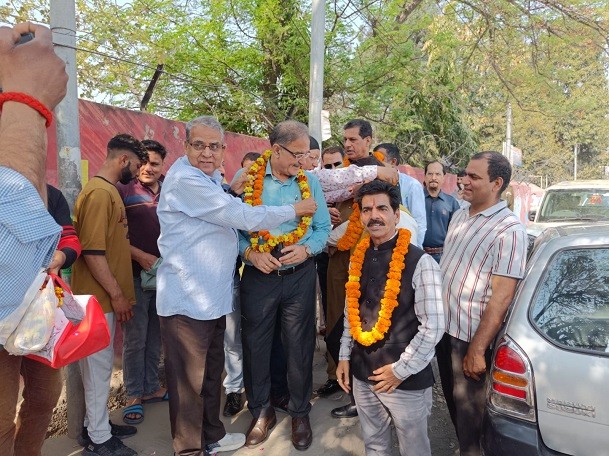 JAMMU: Senior BJP leader and former deputy Chief Minister, Kavinder Gupta today criticised the Rajasthan government headed by Ashok Gehlot for disrespecting and insulting the wives of Pulwama Martyrs.
Notably, the wives of Pulwama martyrs were insulted by Rajasthan cops who were protesting on road for seeking compensation from the Chief Minister.
Kavinder criticised the Ashok-Gehlot government for not paying any heed to the demands of the family members of the jawans who sacrificed their lives for the sake of nation during the Pulwama attack about four years ago. He anguished over the Rajasthan government for having no sympathy for the wives and family members of the martyred jawans.
The senior BJP leader asked Gehlot government to stop harassing them and pay compensation to them as per the promise made with the family members of Martyrs as Nation is always indebted to Martyrs for their supreme sacrifice.
Meanwhile, Kavinder Gupta kick-started development work worth Rs 2 crore under the Smart City project in Ward No 52 Marble Market in Gandhi Nagar constituency. On the occasion, Corporator Ajay Gupta, Vinay Gupta BJP senior leader, Ajay Pargal State Secretary, Corporator Neeraj Lucky Puri and Mandal President; T.S Chib, Rajesh Bhatia, Major Singh, Nitin Thapa and Ajay Sadan were present.
Addressing the gathering, Kavinder asserted that Smart City Project will soon transform the City of Temples into a model city to be emulated in other parts of the nation. He said that today's work is aimed at total facelift rather transformation of the City of Temples. He informed that there are multiple works going on and some still in pipeline under this prestigious project.
Later, Kavinder Gupta interacted with the locals of the area and took stock of their problems and issues. After giving them a patient hearing, he assured to get their issues resolved at the earliest.