There Is Complete Vaccum In Football In Jammu: Arun Malhotra Demands Overhauling
23 January, 2023, By

Cross Town News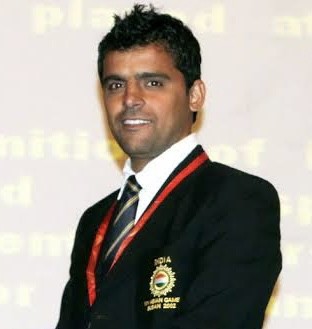 JAMMU: The famous international Footballer and Technical member at All India Football Federation (AIFF) Arun Malhotra has spoken in detail about the road map recently unveiled by Mr. Kalyan Chaubey, President and secretary General, Shaji Prabhakaran, AIFF. He said " Roadmap envisions India to be among the top eight and ten football nations in Asia for women's and men football. strategic plans have been framed starting from 2023-26 up-to 2047. He said that among development activities on target, the focus on structuring many areas, state and national competitions, renewed focus on woman's football, producing of coaches, referees' development, infrastructure, grassroot football and empowering administration at district and state levels and above all its core is a National Football Philosophy.
When asked how shall the Jammu and Kashmir benefited from the vision document, Mr. Arun Malhotra said " After having all inputs and studying the AIFF has chalked down strategy for empowering states is a moot agenda of AIFF and tape the potential and organise junior and senior level league and competition this will help in rise in football across country. Realising the road map into reality we all have to work in coordination under the guidelines of AIFF so that we could achieve what we have designed for our future football. Mr. Arun said that Jammu and Kashmir will not lag behind in accruing benefits of AIFF road map and strategic help but it's important that JKFA should be in place first. Recently, the representative of government, secretary Sports Council met president and secretary General AIFF and had detailed talk for making out football progress programme in J&K. AIFF is also looking for possible MOU (Memorandum of Understanding) to build capacity in local system and take the game forward in UT. Looking ahead for positive developments.
Asked about football development in Jammu and lack of infrastructure, Mr. Arun Malhotra said " the land of Jammu has produced great talent in football of national and international repute. But it's admitted fact that we have to drastically improve in our infrastructure especially grounds should be brought at parties with standard of AIFF which is yet to be done. Football Academies on lines of Kashmir be made operative so that everybody is given equal chance and facilities to excel. The MOU is in offing and I believe after proper study of causes as to why Jammu is still lagging behind in infrastructure and in other areas, the appropriate measures will be taken to bring the Jammu on international platform in terms of football and being a son of soil I have discussed in detail about the steps to be taken for development of football in Jammu.
On DFA elections and having Jammu body to conduct such elections in Jammu province Mr. Arun Malhotra said " on this I must say that Jammu has ample senior players and coaches even bright young minds who have all knowledge of administration and experience inside and outside playground to run football affairs in Jammu and Kashmir. We are bestowed with great personalities having good administrative acumen and can manage the football affairs excellently. We must take all stake holders on Board and should constitute a neutral body comprising all shades of opinion and must hold District Football Association elections in Jammu and rest of the districts"
Mr. Arun Malhotra further said that the football vacuum has developed in Jammu no football tournament or league has organised, if no tournament is organised how can we create players. Football development in Jammu needs complete overhauling and focus and I believe that government led by Hon'ble lieutenant Governor and sports ministry paying huge attention on infrastructural development across J&K. Looking forward a healthy MOU with AIFF for overall development of football in Jammu and Kashmir.