Bihar Vigilance Raids At House Of Head Clerk Of Rural Development: Seizes Cash, Jewelery Worth Lakhs
21 January, 2023, By

Cross Town News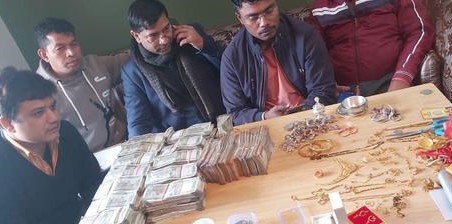 Patna, Jan 21: The vigilance department has raided the house and hotel of the Head Clerk of Rural Development Department, Subhash Kumar in Madhub in Bihar at Khajsarai in Darbhanga.
During raids in the initial phase, the vigilance received Rs 27 lakh cash from the house of the clerk followed by Jewelery worth lakhs as well as movable and immovable properties and notes.
Apart from this, the vigilance team also raided the hotel of Subhash Kumar and the office of a company run in the name of father-in-law and wife.
It is being informed that Subhash's father-in-law Jai Prakash Kumar is currently on the post of Steno in the office of District Magistrate in Darbhanga Collectorate.
It added that when vigilance team reached Subhash Kumar's house, Subhash's family members threw the sack full of money outside the roof, however, the sacks were immediately seized by the vigilance team.