'Nation First Winter Sports Festival' In Kashmir
16 December, 2022, By

Cross Town News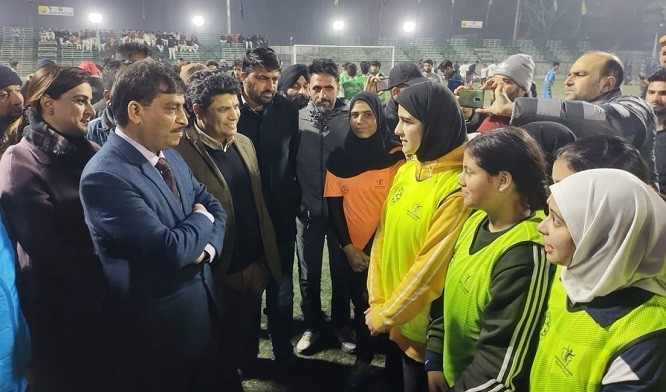 SRINAGAR, DECEMBER 15: Chief Secretary, Dr Arun Kumar Mehta today inaugurated NATION FIRST WINTER SPORTS FESTIVAL, 2022 today at Synthetic Turf Football Stadium, TRC ground.
The Chief Guest was accompanied by Divisional Commissioner, Kashmir; Secretary, YS&S and Secretary J&K Sports Council and other officers from the police and civil administration were also present on the occasion.
Dr Mehta on the occasion interacted with the people and football clubs/teams/Academies and with the registered trainees of sports council football academy and distributed the sports kits among them.
On the occasion the Chief Secretary remarked that the government has created world class infrastructure in the UT during the last couple of years. He further said that Sports is the priority of the government and a lot of resources have been earmarked for uplifting the sports in J&K.
Dr Mehta enjoined upon the Council to organise such activities in other parts of J&K. He told them to engage youth in every part in different sporting activities so that they are able to continue the extracurricular activities in winter also. He advised them to utilize the facilities created recently fully for the benefit of youth of J&K.
He further stated that winter sports provide opportunities to youth to continue showcasing their talent during these months also. He made out that the LG administration is going to provide every sort of infrastructure and facility to the sports lovers so that they do not have to stagnate themselves during any part of the year. He encouraged the youth to excel in sports by taking full advantage of these facilities.
Dr Mehta observed that the administration this year gave opportunity to some 50 lakh youth to demonstrate their sporting skills across the length and breadth of J&K. He declared that it has been made a reality to have a playfield in every panchayat and at least an Indoor Stadium in each district.
He stated that youth outside the twin cities of Jammu and Srinagar can also play games till late hours at stadia provided with flood lights in each district. He stated that a culture of sports and cultural activities is taking roots in J&K. He said that every person young or old is encouraged to take up either sports or culture to channelize his/her energy towards better and healthy activities.
Later a football match was played under flood lights in the ground as an inaugural opening match of the sports festival for sports lovers of valley.