Raghav Langer Conducts Extensive Tour Of Udhampur; Reviews Ongoing Dev Works At Patnitop
01 December, 2022, By

Cross Town News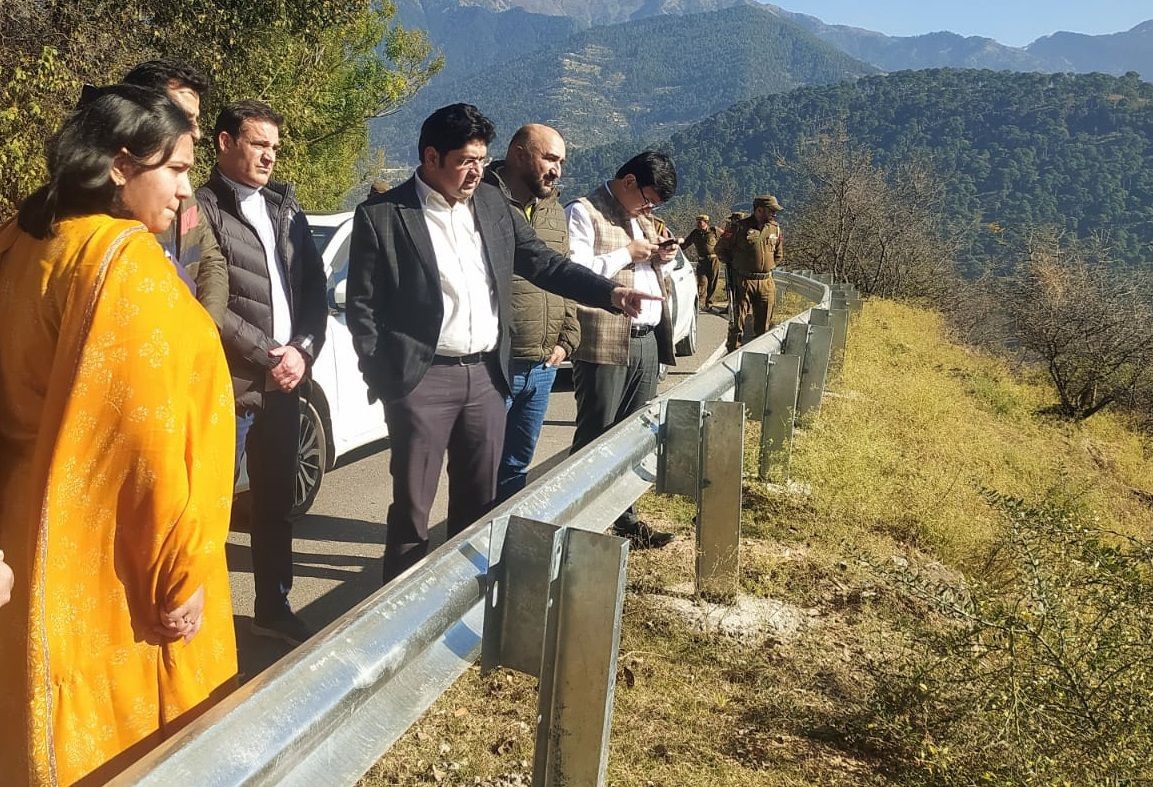 UDHAMPUR, DECEMBER 01:- Secretary Planning, Development and Monitoring Department, Dr Raghav Langer today conducted an extensive tour of district to take the stock of ongoing developmental scenario of the District Udhampur.
Enroute, Dr Langer along with Deputy Commissioner, Udhampur, Krittika Jyotsna visited various sites of identify State land from Chenani to Natha Top for construction of commercial developmental projects. Necessary instructions were issued to Revenue department for demarcation of identify state land at an earliest. PWD was directed to prepared a detailed proposal for widening of Patnitop to Sanasar road.
To discuss the action plan with regard to winter preparedness in the district, Secretary Planning chaired a meeting of officers of different departments and PRIs members at JKTDC Conference Hall Patnitop.
MD JKTDC, Minga Sherpa, SSP, Dr Vinod Kumar, BDC Chairman, Chenani Parkash Chand, Additional Deputy Commissioner, Mohammad Syed Khan, CEO PDA, Sher Singh, SDM, Chenani and other senior officers and PRI members attended the meeting.
Threadbare discussion were held on various issues which include Action plan with regard to road clearance in snow bound areas, Smooth movement of vehicles on National Highway old and new, Winter plan for proper electric power and drinking water supply, Winter preparedness plan with regard to other essentials services etc were discussed in detail.
On the onset, The CEO PDA, Sher Singh gave a briefed about the present status of all the ongoing development projects/works executed for development of tourism facilities in Patnitop etc.
Dr Langer directed the concerned to activate men and machinery to minimize the chances of disruption of traffic and other essential services. PDD department was asked to ensure a buffer of essentials service items is creative to reduce the replacement time. PWD, PMGSY were asked for road clearance. He directed that there should be no delay in road blockade and, as soon as it happens, clearance machines should be pressed into service so that people do not face any inconvenience. Dr Langer issued instruction to the concerned departments for the deployment of sufficient snow clearance machinery at the critical points to ensure uninterrupted traffic movement during the winter season.
During the tour, Dr Langer also interacted with Hotliers and other stakeholders at Patnitop, they put forth their demands like seeking adequate provision for drinking water, Uninterrupted power supply in the area, Unscheduled power cuts, Early completion of Tangdhar Pakhlai under PMGSY road, Implementation of JJM schemes,, functioning of public utilities, traffic congestion, adequate infrastructure to tap the full tourism potential of the area, fire tender and ATM facilities, etc. PHE was directed to new schemes should be commissioned at an earliest.
Dr Langer gave a patient hearing to the issues and demands put forth by the PRIs and Hotliers and assured them that the Government will take adequate measures for redressal of their genuine issues. He said that the Patnitop circuit has potential for eco-tourism, adventure tourism and directed the concerned departments to explore possibilities of developing more such facilities to increase the tourist footfall and to make Patnitop one of the best tourist destinations of J&K.