Div Com Jammu Again Directs DC's To Expedite Delineation Of Khads But Shall They?
22 November, 2022, By

Cross Town News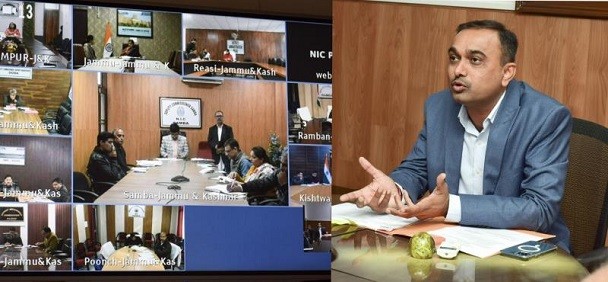 JAMMU, NOVEMBER 22: No doubts, in compliance to High Courts orders in PIL, once upon a time SRO-456 of 2017 dated 25th October 2017 was issued by which Div Com/DC's were appointed as Adjudicating Officers to settle the issue of Gair Mumkin Khad lands, which was self created by incompetant Revenue Officers by putting a ban on sale/purchase of such lands but without any order but was openly non complied by the bosses.
Petrinenent to mention here that even Section 3 of Big Landed Abolition Act & Master Plan clarified that no Revenue Laws shall be applicable in the lands falling under Master Plan areas but none botheredd to harass innocents, speaks of deriliction of duties, lack of knowledge & intentional harassment to innocents by Revenue bosses.
Thereafter, Administrative Concil headed by LG vide Decision dated 29th Jan. 2022 directed DC's to decide the issue of Gair Mumkin Khad lands in three months but on today 09 months & 23 days had passed only one case of Jammu District has been cleared by Govt, which speaks of non compliance of LG's orders but none of the concerned has been punished for such an undesired act of DC's.
However, Today again, Divisional Commissioner Jammu, Ramesh Kumar reviewed in detail status of delineation of Gair Mumkin Khad, retrieval of Roshni land, eviction of encroachments on state/ common land, generation and distribution of land passbooks, land issues of industries, stamp duty rates and other revenue matters.
The Div Com directed DCs to expedite the restoration of Roshni land, retrieval of government land and eviction of encroachments by setting Monthly targets.
He further asked them to take measures to keep a check on fresh encroachments in the districts.
"Hold meetings with Tehsildars and fix targets for eviction of encroachment and ensure no re-encroachments on retrieved land takes place," he instructed.
The Div Com also emphasized to expedite the process of delineation of Gair Mumkin Khad land and said 'the progress will be reviewed fortnightly and no laxity will be allowed in this matter, but it stands discussed in his previous meeting'
He also directed concerned DCs to submit reports to his office at the earliest.