Kulgam Police Holds Police Community Partnership Group Meeting
22 November, 2022, By

Cross Town News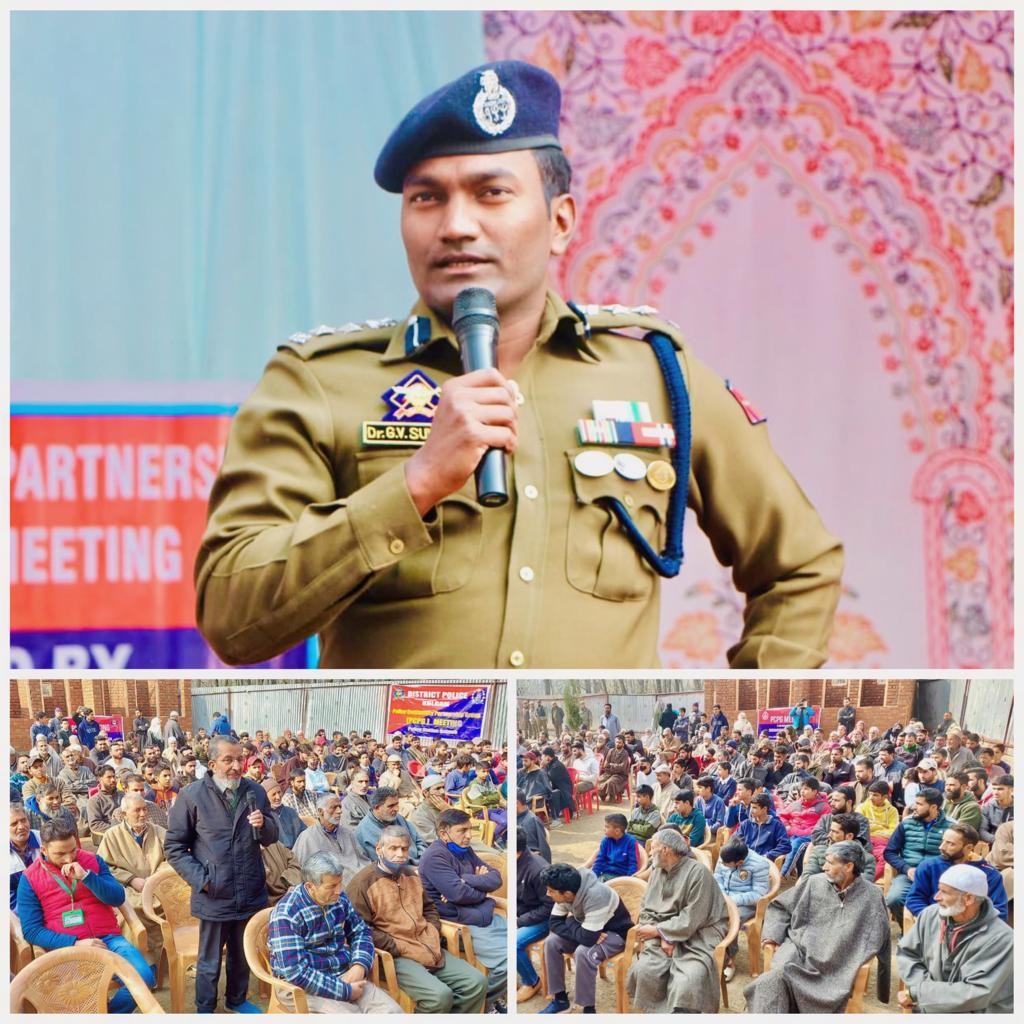 Kulgam: November 22: As a part of Public outreach programme, Police Community Partnership Group Meeting *(PCPG)* was held by Kulgam Police, in the village Redwani Bala. The meeting was chaired by SSP Kulgam Dr.G.V. Sundeep Chakravarthy-IPS alongwith other Senior officers of Police and was attended by respectable Citizens including members of Auqaf Committees, Numberdars, Chowkidars, Traders Federation/Fruit Associations of Khudwani, Qaimoh, Redwani and it's adjacent areas.
During the interaction Participants raised various issues of Public importance including drinking water issues, traffic Jams, widening of roads, construction of playgrounds, organising tournaments for youth and especially requested for the counselling of the youth of the areas. SSP Kulgam listened the grievances patiently and thereafter assured them that their genuine grievances will be resolved on priority and every possible help will be provided to the people of the area, also grievances pertaining to civil administration will be taken up with concerned department for their early redressal. The Participants were stressed to co-operate with Police in maintaining law and order in the area and in identifying Anti-National elements who always try to disrupt the peaceful environment.
Later SSP Kulgam distributed Sports kits among the local youth (Players) and encouraged them to exhibit true sporting spirit. Addressing the gathering, SSP Kulgam said that Kulgam police is making all out efforts to promote sports as these could play an important role in wiping out the curse of drug abuse. He also exhorted the participants to come forward and support the Police in making kulgam a drugs free district; for which participants in the meeting assured their full co-operation to Police and Administration in tackling social evils and also appreciated the efforts of Police in facilitating community interaction meets where participants express their opinions freely. The meeting concluded with a positive note of thanks and appreciations to District Police from Public side.