SSP Samba Applauds Role Of Retirees While In Service Of Police Department Spending Their Golden Years Of Life
27 September, 2022, By

Cross Town News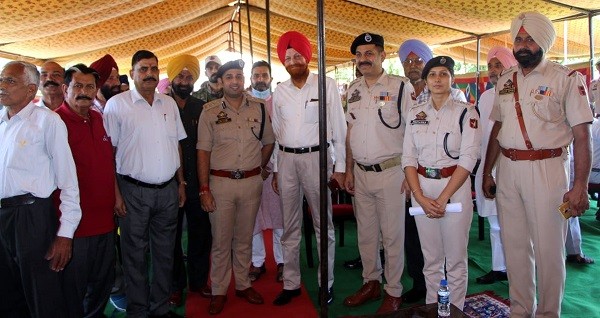 Samba, September, 26: In order to review the welfare measures and to redress the grievances of retired police personnel, SSP Samba, Dr. Abhishek Mahajan, today held a meeting with J&K Retired Police (Non-Gazetted) and Ors Welfare Forum at District Police Lines Samba.
The objective of the meeting was to acquaint with the problems being faced by the retired police personnel and its possible remedial measures.
In the meeting, SSP Samba was accompanied by Additional SP Samba, Surinder Choudhary, DySP DAR, Samba, SDPO Vijaypur, SHOs and other police officers.
More than 150 retired police personnel from district Samba participated in the meeting.
At the outset of the meeting, Retired Police Welfare Forum appreciated Samba police for organizing the meeting to enquire about their well beings and to let them know about the welfare measures being taken by the J&K Police from time to time.
They highlighted some problems and issues being faced by them which were listened by the officer. The retiree officers showed satisfaction to the way their welfare measures are being taken.
SSP Samba assured them that J&K Police is always committed for the welfare of its retiree police personnel and their genuine demands/problems will be taken up at appropriate level for redressal.
SSP applauded their role while in the service of Police Department spending their golden years of life and emphasized on them to consider police department as a family and share their problems with us at any time.
After a long interaction session, lunch was hosted by District Police Samba for all the participants present on the occasion.