J&K: Advocate Deepika Singh Rajawat Terms Withholding Of Salary Unjust And Harsh
26 September, 2022, By

Cross Town News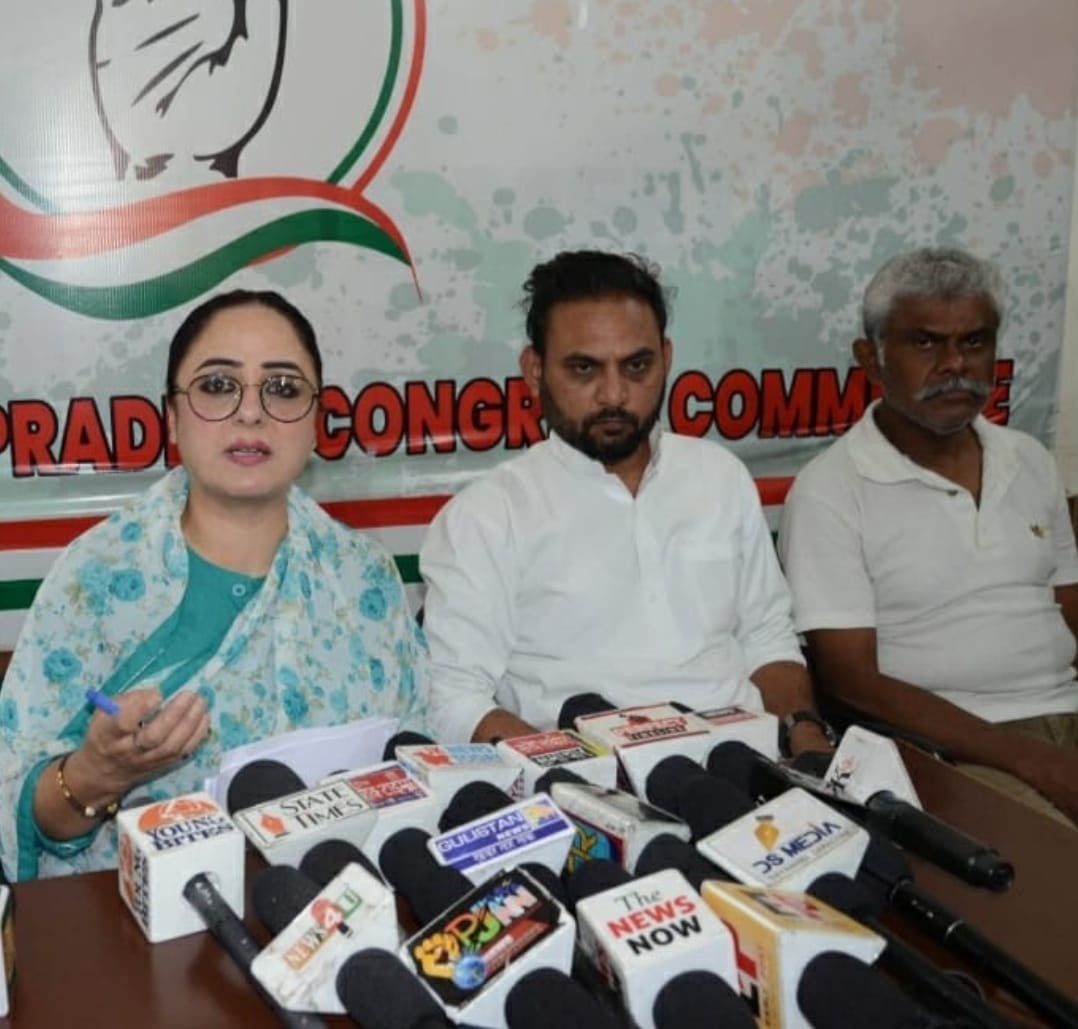 Jammu, Sep 26 : Jammu and Kashmir Pradesh Congress Committee (JKPCC), Spokesperson, Advocate Deepika Singh Rajawat Monday lambasted Lieutenant Governor's administration for plunging migrant employees including Kashmiri Pandits in distress by virtue of an order withholding their salaries. She termed the action unjust and harsh on the employees, who have been vulnerable to targeted killings in Kashmir and are protesting since last May of this year.
She said that it is unfortunate that when hundreds of migrant employees including Kashmiri Pandits, who had been engaged under Prime Minister's employment package and different schemes are protesting for the assurance of their safety in wake of continuous targeted killings in Kashmir, the LG administration has is being apathetic towards them. Advocate Deepika voiced her support for the protesting migrant employees and demanded immediate redressal of their demands instead of victimizing them heartlessly. Pertinently there are thousands of employees including Kashmiri Pandits who are working in different departments of the valley under the said package.
She said during the golden tenure of Congress in 2008 the Prime Minister's Employment Package was introduced, aiming at rehabilitation of the displaced Kashmiri Pandits, a community forced to live away from their homes.
"In a written reply, MoS Home, Nityanand Rai, in July this year on the floor of the Parliament had claimed that under the PM's Employment Package around 5502 migrants have been provided with government jobs," shared Advocate Deepika, She said that the LG administration has kept a detailed number of these employees like livestock and has failed miserably to provide them with basic required security of life."These employees have been receiving threatening letters, these threats have translated into violent acts of terror which has resulted in killing of over two dozen migrant workers in targeted attacks thus creating an environment of fear and psychosis. One of the employees Rahul Bhat was shot at in broad daylight in his office and killed in cold blood, another teacher Rajni Bala was shot at her school and killed" said Deepika, adding that owing to LG administration's abject failure to save them from getting killed, the hapless and vulnerable migrant workers were then forced to go on a protest to make this deaf and heartless administration pay attention to their distress calls.
She maintained that migrant employees have been protesting for about four months now and instead of giving any heed to their genuine demands, Bhartiya Janta Party through their LG is blackmailing these employees by withholding their salaries. "I am astonished to see this administration threatening these employees to fall in line at such a sensitive time when the security situation in the valley is in shambles," Deepika said and added that by stopping their salaries this administration is trying to exact revenge from them for a crime they haven't committed. She said instead of devising a robust solution to the ensuing crises in the Valley, this regime harshly is trying to crush them into submission. The regime is further victimising an already battered and victimized community.
"It is appalling and shameful that educated and highly qualified employees are on a dharna from the past over four months demanding nothing but safety of their lives. BJP which monetizes the sufferings of this community and seeks votes on that pretext all over the country has shown its true colours by rendering a completely indifferent approach towards these employees," Advocate Deepika said and added that the LG on the directions of the BJP led Central government is hell bent on further pushing them into uncertainties.
"Both LG and BJP have mistaken their demands for favours, I want to remind them that the hapless migrant employees are seeking their genuine demands and today or tomorrow people will hold this heartless regime accountable for such inhuman indifference and vengeance in their own court," she said and added that under present dispensation, people of Jammu and Kashmir are coerced to reel under anarchy, wherein none of the demands of the people are even paid an ear to and are left at the mercy of God.
Advocate Deepika Singh Rajawat on behalf of the Congress, demanded serious and exigent measures to ensure safety and security of the migrant employees serving in the Valley. "All the genuine demands of the protesting employees must be conceded and the order withholding their salaries shall be immediately withdrawn keeping in view the deteriorating security situation in Kashmir," she said, adding "A proper and suitable transfer policy should be invoked for the welfare of the migrant employees and treating them like a liability on the Union Territory should be stopped."
She said the Congress has always stood for the security of the Country and its citizens, whatever development Congress had made in past years has been ruined by the current plutocracy headed by LG in J&K and has turned this place into an uncertain cobweb of violence, where anarchy is ruling the actual state of affairs. "This regime has bull-dozed the democratic process here, alienated people and pushed them against the wall and now it is trying to turn KPs into scapegoats for further electoral monetization, she said, adding that there has been no improvement in the security situation in Jammu and Kashmir; as a matter of fact this regime has majorly focused on artificial aesthetics and cosmetic normalcy to hide their failures in ensuring security to people. Multiplexes and sponsored events are not a sign of development or peace at a time when a Pandit employee is shot point blank and killed in cold blood in the very same city. She suggested LG administration to be sensitive to the loss of human lives and stop treating them as an entity to gain political mileage.