Bhupinder Kumar Directs JKMSCL To Complete The Trainings For DVDMS Portal To Utilize In Grass Root Level
22 September, 2022, By

Cross Town News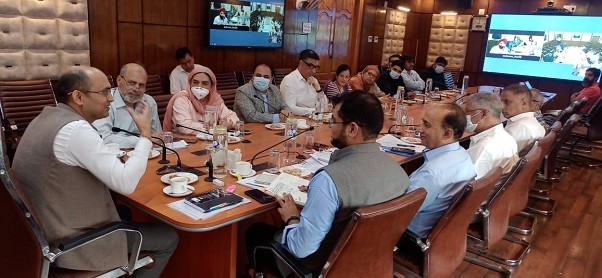 JAMMU, SEPTEMBER 21: Secretary, Health and Medical Education (H&ME), Bhupinder Kumar, today convened a review meeting of Jammu and Kashmir Medical Supplies Corporation Limited (JKMSCL).
Additional Secretary H&ME, Managing Director, JKMSCL along with Financial Advisor, General Manager (Administration), General Manager (P&S), Deputy General Managers and Medical Officers of JKMSCL attended the meeting.
The meeting had deliberations on different issues with respect to timely procurement and supplies of essential medical items to different Health Institutions of Jammu and Kashmir.
Secretary took detailed assessment of procurements made during past 3 years including during COVID-19 Pandemic.
He also reviewed status of procurements under major projects like State Cancer Institute Jammu, Bone and Joint Hospital (Jammu and Srinagar) and 500 Bedded Paediatric Hospital Srinagar.
He exhorted upon JKMSCL to ensure that the procurement process is fast-tracked in order to have a seamless and robust healthcare infrastructure in the UT.
Besides, issues pertaining to penetration of drugs and vaccine distribution and management system (DVDMS) portal for online procurement and distribution of drugs, disposable and M&E were also discussed in detail.
Bhupinder Kumar directed JKMSCL to complete the trainings for DVDMS Portal in all the districts expeditiously so that same is utilized in grass root level health institutions.
He said that the end user institutions be sensitised regarding the procurement process and should act accordingly.