Chief Secretary Asks DC To Ensure Rationalization Of Teaching Staff Within 30 Days In The Schools
18 September, 2022, By

Cross Town News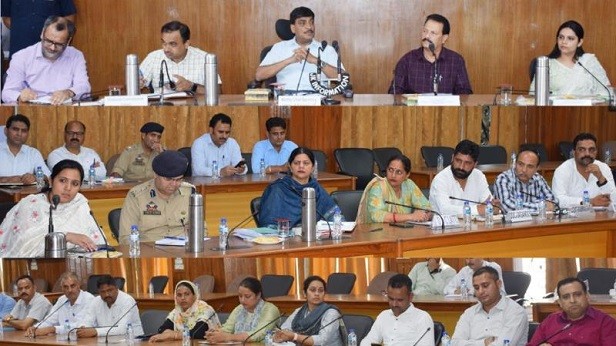 UDHAMPUR, SEPTEMBER 17: In order to take stock of various ongoing developmental works and flagship schemes under taken by various departments in district Udhampur, the Chief Secretary, Dr Arun Kumar Mehta today conducted an extensive tour of District Udhampur to review the progress of ongoing developmental works under CSS and other developmental programmes.
Divisional Commissioner, Jammu Ramesh Kumar, DIG Udhampur-Reasi Range, Mohammad Suleman Choudhary, Directors and Chief Engineers of various departments, SSP, Dr Vinod Kumar and other District Heads of various departments attended the meeting.
At the outset, the District Development Commissioner Udhampur, Krittika Jyotsna gave a sector wise detailed PowerPoint presentation of various ongoing developmental works, flagship schemes being executed by different departments in the district.
The Chief Secretary took comprehensive review of district Capex budget 2021-22 & 2022-23, Financial/ physical progress under district Capex budget including CSS & loan, physical progress under district Capex budget 2022-23, Status of Back to Village programme and other flagship programmes besides the pace Dr. Mehta gave directions to complete the projects with in time frame.
The Chief Secretary directed the concerned departments to mobilize their men and machinery for effective implementation of all schemes and coverage of 100% eligible beneficiaries under all schemes and no eligible beneficiary to be left out.
He directed all the officers to work in coordination for better results at the grass root level.
The DDC was directed to organize sports and awareness activities at gram panchayat level to motivate the youths about different income generating schemes and engage them for establishing self employment units to channelize their energy in right direction.
DC was further asked to ensure rationalization of teaching staff within 30 days in the schools. It was desired that every primary school should have a kindergarden.
District heads of various departments apprised the Chief Secretary about the status of different schemes taken up by their respective departments and their status as on date.
DDC was asked to regularly monitor all ongoing developmental works and get feedback from district officers on daily basis.
The Chief Secretary later on e-inaugurated Improvement/up gradation of Chenani Pattangarh Road Including Construction of 58 Mtr Span Steel Girder Intermediate Lane Motorable Bridge Over River Tawi and e-inauguration of construction of 45 mtr Span Motorable Bridge Kogha Pinger Bainsta on Kogha Thali Road including approach road besides laid e-Foundation of 02 numbers of Rural Haats at Block Ramnagar & Tikri.
During the interaction, the CS said that the main objective of holding this interaction is to assess the implementation of centrally sponsored schemes on ground and take feedback from the PRIs.