End User Of Drugs Is A Victim, Not Criminal; Society Needs To Be Empathetic Towards Him: Div Com
02 September, 2022, By

Cross Town News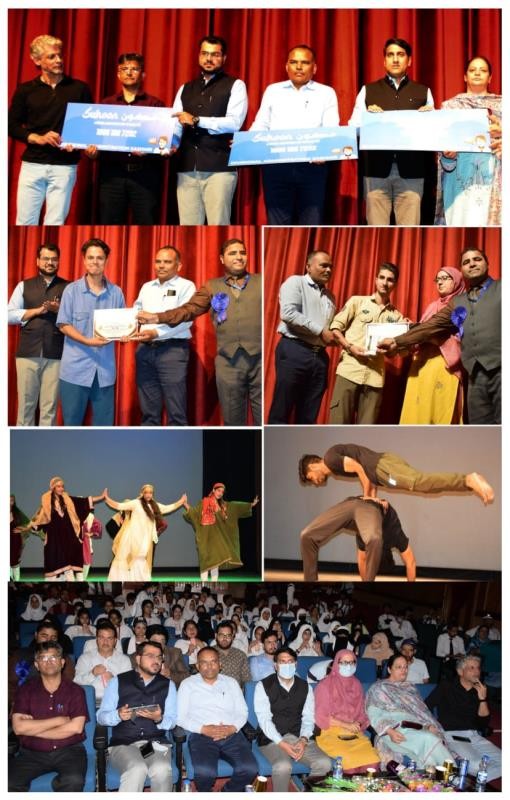 SRINAGAR, SEPTEMBER 01: A day long awareness programme against drug addiction under Nasha Mukt Bharat Abhiyan was today held at Tagore Hall by Shahr e Khas Literary and Cultural Welfare Society in collaboration with Divisional Administration, Kashmir, J&K Academy of Art, Culture & Languages, and J&K Excise Department.
Besides Divisional Commissioner (Div Com) Kashmir, Pandurang K Pole who was Chief Guest on the occasion, the programme was attended by Deputy Commissioner Srinagar, MD, NHM J&K, Deputy Excise Commissioner, Director Colleges, Joint Director Information Kashmir, Joint Controller LMD, Deputy Director Information Kashmir, officers, Teachers, students and others.
Speaking on the occasion, Div Com said that India has the 2nd largest population in the world with the majority of population consisting of youth. He underlined the requirements of reaping the dividends of the young population and called for saving and protecting youth from falling into drug abuse.
He said many anti-social and anti-national elements are ruining the lives of youth by pushing them in the menace and vowed that strict action shall be taken against drug peddlers, dealers and exhorted on breaking their nexus.
Pole emphasised that the end user of drugs is a victim, not criminal, society needs to be empathetic towards him.
While sensitizing the media, Div Com asked for using the word 'victim' for those who consume drugs and called them innocent who need sympathy, counseling instead of hate to ensure they get back to normal life.
Div Com also launched a Toll free Sakoon Helpline number 18001807202, a mental health Helpline to value life and for counseling victims.
Speaking on the occasion, MD, NHM highlighted the symptoms and consequences of drug abuse and warned that a pandemic of liver failure will be seen in coming years due to consumption of drugs.
He said one of the main reasons for sudden heart attacks among youth is use of drugs.