Alok Kumar Visits Uri; Inaugurates KGVB
29 August, 2022, By

Cross Town News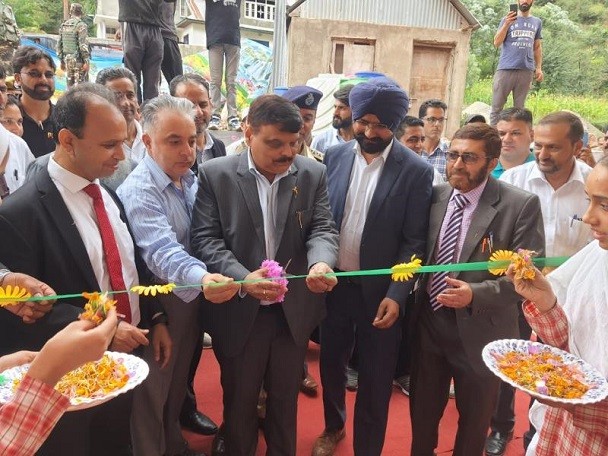 BARAMULLA, AUGUST 28: Principal Secretary School Education Department (SED), Alok Kumar today visited Uri Baramulla and inaugurated newly constructed Kasturba Gandhi Balika Vidyalaya (KGBV) at Sultandaki here.
The Principal Secretary was accompanied by Director School Education Kashmir, Tassaduq Hussain; Sub-Divisional Magistrate Uri, Harvinder Singh; Director Samagra Shiksha, Er. Deep Raj and other officials of district administration.
After inaugurating the 100 Bedded KGBV, the Principal Secretary stressed upon the officers to maintain cleanliness, proper personal Hygiene and upkeep of all KGBVs. He directed the Chief Education officer to make best arrangements of the Management Staff, so that the students may feel comfortable in the KGBV.
The Principal Secretary also advised the management of institute to conduct special evening classes for the students.
Speaking on the occasion, Alok Kumar highlighted that KGBVs are meant for the Girls belonging to weaker sections of the society (ST/SC/BPL/Orphans) and at present around 4513 Girl Students are presently residing in KGBV Hostels.
He said that the improvement in the National Achievement Ranking from 17th Rank to 6th Rank in 2021-22 has added new feather to the SED which has encouraged the morale of the teaching staff.
The Principal Secretary also appreciated the efforts of School Education Department in the recent enrolment drive held all over the UT, where around 167000 students have been added in the Govt. Schools. He reiterated that quality infrastructure in the academic institutions even in the remotest areas of the UT of JK is being established.
The Principal Secretary further said that this year around 20 Virtual Reality labs, two Model Resource Rooms and allied infrastructure shall be made available to the students for boosting scientific temper among them.
He further advised students and teachers to adopt innovative and experiential method for making teaching-learning more meaningful and effective. He also urged them to get ready for the successful implementation of NEP 2020 so that its goal of producing qualitative and skilled human resource can be achieved.
On the occasion, Project Director, Samagra Shiksha apprised the Principal Secretary that for personal hygiene of the girl students, Vending machines and incinerators are being provided shortly in all the KGBVs.
Interacting with the media on the sidelines of the inauguration, Principal Secretary said that SED has completed 62 KGBV hostels out of the sanctioned 89 KGBVs in 89 Educationally Backward Blocks, all over the UT with the financial implication of Rs. 52.30 crores.
He said that rest of KGBVs shall also be completed in the next 6-8 months and SED is making continuous efforts in bringing the students of J&K at par with the students of other parts of the country.