Pahari Tribal Leaders Of J&K Led By Vbodh Gupta Meet Union Home Minister Amit Shah At New Delhi
05 August, 2022, By

Cross Town News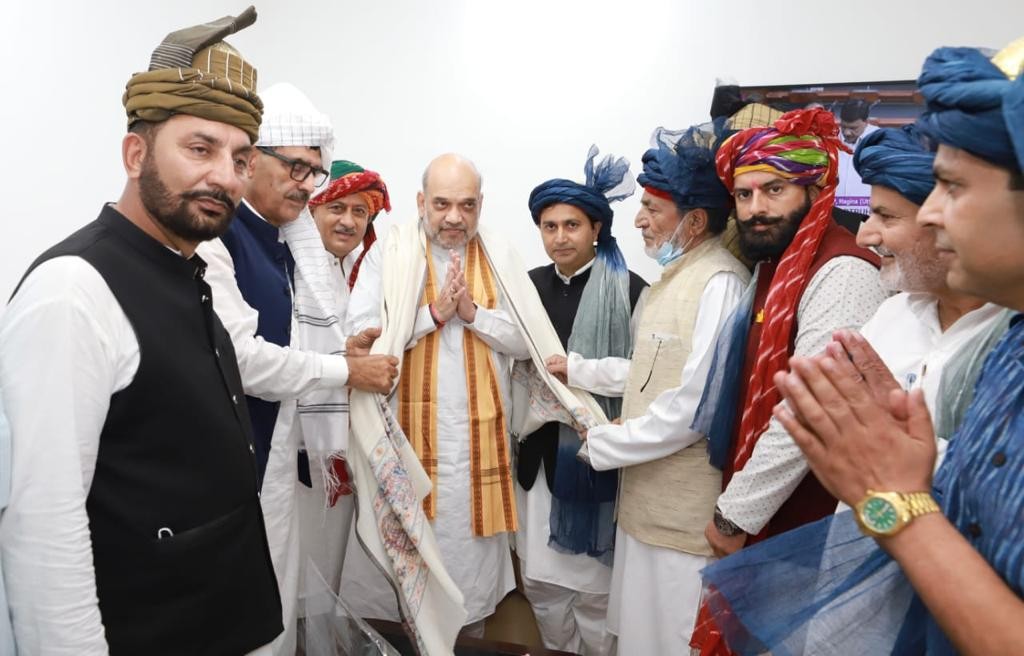 New Delhi, Aug 05: Pahari Tribal leaders of J&K met Union Home Minister at New Delhi. Led by BJP J&K General Secretary and former MLC Vibodh Gupta Pahari Community leaders including former Minister Mushtaq Bukhari, Mohd Iqbal Malik, Mohd Rafiq Chushti, Ex MLC Sayeed Rafiq Shah, DDC Qayoom Mir, DDC Sohail Malik Raja Waqar Asif, Khurshid Ahmed Mir, Advocate Ahsan Mira, Gurdev Thakur, Sayeed Altaf and Ashiq Rafiq Mangral met the union Home Minister at his office inside the Parliament House today. In this meeting a representation related to the various genuine demands of the Phari Tribe was also presented to the Union Home Minister. This representation was made under the guidance of BJP J&K President Ravinder Raina.
During this meeting, Vibodh informed Amit Shah that Pahari Tribe represents a sizeable population of 12 Lakhs in Jammu & Kashmir. This tribe he said is struggling from the past many decades for the grant of ST status at par with ST status granted to Gujjars, Backcrawls and Gaddies residing in the Union Territory of Jammu and Kashmir. Highlighting the plight of the Pahari Tribe, Pahari Leaders said that being close to LOC this community has been worst hit due to partition, two wars and terrorism in the past. They thanked Amit Shah and central Government for providing 4% reservation to the Pahari tribe and for recognising the plight of Paharis. Today Pahari Tribe has huge expectations from the central leadership specially from PM Modi and Amit Shah, thay added
While reacting to the genuine demands of Pahari Tribal leaders and assuredthem that all the genuine demands and Concerns of the Pahari Tribal Community will be taken Care off, Shah said to Phari Tribal Community living in district Rajouri, Poonch, Uri, Keran and Keranah Pehalga, Shopian have already suffered in last 70 years and this time Modi government will do justice with them. He further said that the Modi Government is fully aware about the genuine issues of the Pahari Tribe and also recognises the great sacrifices made by this patriotic community for the sake of the country. He also assured the Pahari leaders that "Sab Ka Sath Sabka Vikas is the Mission of the Modi government and we will follow this in letter and spirit and Pahari Tribal Community will be given justice. On this occasion, Amit Shah strongly emphasized that the whole country loves Jammu and Kashmir and called upon the Pahari leaders to work in a mission mode for making a strong and vibrant new Jammu and Kashmir in line with the vision and mission of PM Modi.