ACB J&K Books Naib Tehsildar, Ors For Change Of Land Use
22 June, 2022, By

Cross Town News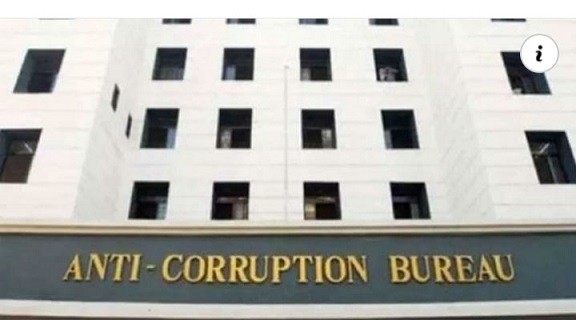 Jammu, June 21: Anti corruption Bureau Jammu registered a case against then Naib Tehsildar, Girdawar Niabat Sohal Akhnoor for change of land use measuring 58 Kanal and 16 Marlas.
According to the ACB that a verification conducted to look into the allegations regarding change in kind of land from gair mumkin khad to waryal awal in Khasra No 99 ( 58 Kanal 16 marla) situated at Badgal Khurd Tehsil Akhnoor and in khasra No. 344 situated at Dhok Jagir Tehsil Akhnoor by the then Revenue officers.
During the verification it revealed that then Naib Tehsildar Bharat Bhushan posted at Niabat Sohal in connivance with other revenue officials have changed the kind of land from GAir-Mumkin-Khad/Roar to to waryal Doam in khasra No. 99 (58 kanal 16 Marla) situated at Badgal Khurd Tehsil Akhnoor and in khasra No. 344 situated at Dhok Jagir Tehsil Akhnoor illegally which he was not competent to do so. otherwise Department is harassing thousand of others for such kind of lands.
As per policy, the district level committee under the chairmanship of Deputy Commissioner shall process the case and forwarded to Divisional Commissioner who in turn shall forward the same to the Administrative Department along with his recommendations for change of title.
Moreover the Hon'ble High Court of J&K vide order dated Barial Bhushan the 10.07.2014 had passed the directions that " construction in the areas of water body or abutting the water body shall remain stayed and further directed that the sale of land concerning the bed of river and the land recorded in the revenue record as khad also remained stayed".
But, the then Naib Tehsidlar Bharat Bhushan and Girdawar Balwant Raj then posted at Niabat Sohal Tehsil Akhnoor have violated the above said orders and by sheer abuse of their official position had transferred the land to the following persons by changing of possession and kind of soil from Gair-Mumkin-Khad/Roar to Waryal Doam .
The verification conducted so far prima facie established that the above said officers/officials have illegally and with the dishonest intention fabricated and manipulated the revenue record by abusing their official position for pecuniary gains as well as confer undue benefits upon the beneficiaries and corresponding loss to the state exchequer.
The aforementioned acts of omission and commission on the part of below mentioned public servants as well as private persons constitute the commission of offences U/S 5 (1) (d) r/w 5 (2) of J&K PC Act Svt. 2006 and Section 120-B RPC against (1) Bharat Bhushan the then posted as Naib Tehsildar Niabat Sohal Tehsil Akhnoor (2) Balwant Raj the then posted as Girdawar Naibat Sohal Tehsil Akhnoor (3) Roshan Lal S/o Sewa Ram R/o Dhok Jagir (4) Vikram Kumar S/o Phattu Ram R/o R/o Dhok Jag Sudgal Khurd (5) Ahsok Kumar S/o Ambu Barwala R/o Dhok Jagir (6) Amrik Singh S/o Ghulab Singh R/o Dhok Jagir (7) Bittu S/o Joginder Lal R/o Dhok Jagir (8) Madan Lal (9) Som Raj (10) Raghu Kumar Ss/O Prem Chand R/o Dhok Jagir (11) Ashwani Kumar S/o Ramesh Kumar R/o Dhok Jagir Tehsil Akhnoor and others.
Accordingly, FIR has been registered at P/S ACB-Jammu.