Jammu Club Celebrates International Day Of Yoga
21 June, 2022, By

Cross Town News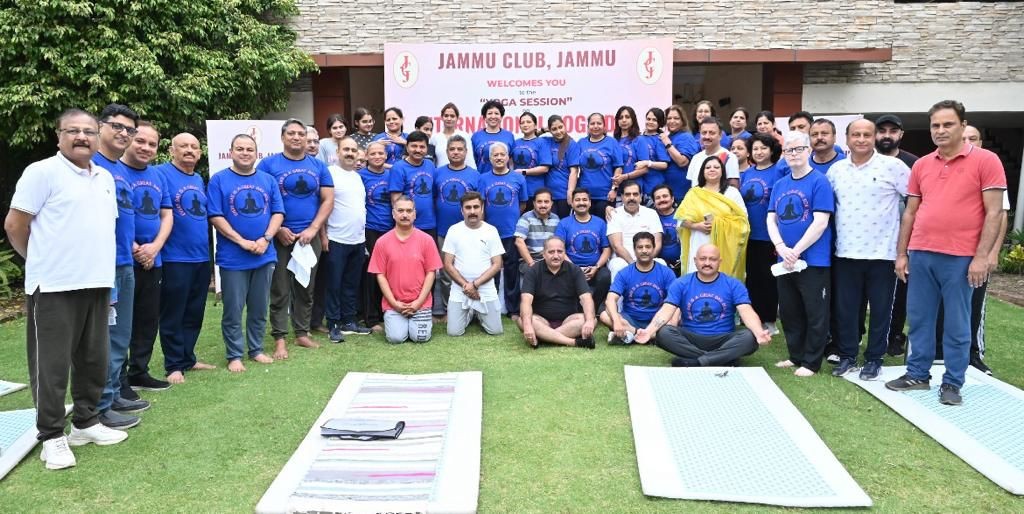 JAMMU, June 21: Jammu Club today celebrated International Day of Yoga with great enthusiasm by performing Yog Aasans in the lawns of the Club.
The celebrations began with the lighting of ceremonial lamp by Gaurav Gupta, Secretary of the Club. Anu Mahajan, Yoga Instructor, demonstrated various Yoga Aasans in front of the Club Members.
Gaurav Gupta, in his message on International Day of Yoga, highlighted the significance of Yoga in discovering inner peace, transforming body and mind. It is important that Yoga is inculcated in our daily routine to discover internal peace, purity, and to ward off unwarranted stress in these testing times.
Mr. Gupta said that it was combine efforts of Jammu Club and Yoga Group that today event was a great success as without the support of Yoga Group members it may not be possible. He also appreciated the efforts of Mrs. Anu Mahajan for her selfless services for the welfare of Club Member in imparting free yoga classes on daily basis.
Gaurav Gupta urged the Club Member to practice Yoga and adopt a balanced and healthy life-style to stay fit and overcome diseases, besides carrying forward the move initiated by the Prime Minister by celebrating the International Yoga Day which has become highly popular across the world.
The Secretary expressed gratitude to the Managing Committee for their wholehearted support in making today's celebration a grand success. He assured that many more such programmes would be organized by the Club in the coming time for the welfare of the Club Members and their families.
On this occasion Members of the Managing Committee Er. Ashok Gandotra, ]Er. Ajay Sabharwal, Dr Uttam Singh, Dr. Sandeep Singh, Mrs. Kavita Gupta and Mr. Ashwani Gupta were also present.