Manju Singh Threatens To Commit Suicide Outside Raj Bhawan Jammu
15 January, 2022, By

Cross Town News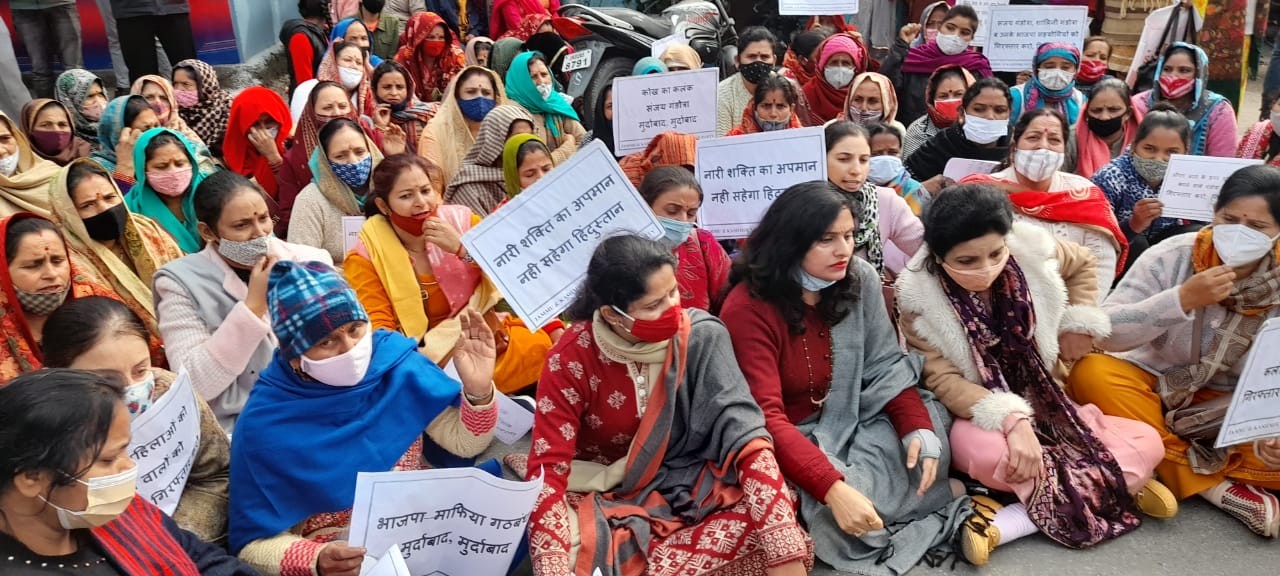 JAMMU, Jan 15: Cutting across political, religious and caste considerations, the members of Mahila Samaj today held a massive protest seeking immediate arrest and exemplary punishment to the delinquents who are being heard hurling the filthiest ever abuses upon the womb of mothers in an audio which is in wide circulation all over the J&K UT , read the press statement.
The Press statement issued further reads "Several hundreds of female protesters who assembled outside Raj Bhawan in the morning today and held a vociferous demonstration took out a procession upto the IGP HQ Jammu raising slogans against BJP and Police for sheltering notorious elements who have used the most derogatory and extremely loathsome language while against the womenfolk and motherhood in general. They also played an audio clip where in Sanjay Gandotra a notorious element of Jammu and a BJP sponsored goon is crossing all limits of profanity while abusing the mothers womb.
The protestors spattered on the road disrupting the vehicular traffic for hours leading to massive traffic jam in the area. The protesters led by Mrs Anita Choudhary and Mrs Meena Kumari, social activists and Mrs Ashri Devi DDC Member submitted a memorandum to IGP seeking immediate arrest of Sanjay Gandotra, his accomplices and co-conspirators who had not only assaulted Mrs Manju Singh and her husband but also used most profane and foulest ever language against the motherhood while referring to mothers, sisters and wives.

Pointing towards the recorded statement of Mr Sanjay Gandotra, as in circulation all over, Mrs Anita Choudhary said that Mr Sanjay Gandotra was a sinner and not a mere criminal as he was openly abusing the womb of a mother. She said that the words used by Mr Gandotra against womenfolk are highly offensive, obscene, vexatious, loathsome, intolerable and needed the Cognizance of the LT Governor and Police administration and the culprit along with co-accused needed to be arrested forth arth. She said that it was shocking that despite an FIR having been lodged against Sanjay Gandotra and his accomplices around five months back by Mrs Manju Singh, the police administration had failed to take cognisance thus pointing towards a well knit police-criminal nexus operational in the system enjoying patronage of present rulers. She further expressed her shock that even the recording of Sanjay's criminal acts and expressions provided to the police had been pushed under the carpet with no action having been initiated there upon during the last few months.

Mrs Meena Kumari another women activist called for immediate punitive action against Sanjay Gandotra who had not only outraged the modesty of women in general but had even misled the court to cover up his own shameless conduct. She cautioned to intensify the movement against the offenders in case the police failed to act asserting that any further protection to the delinquents could have earthshaking consequences.

Mrs Manju Singh said that she would prefer committing suicide outside the LT Governor's house rather than being victimised, persecuted, humiliated and abused by the cronies of BJP. She said that all agencies including independent bodies seemed to have surrendered before mighty BJP. She said that dozens of complaints against BJP activists including its rowdy MLA have been disregarded and thrown into the dustbin only for political reasons. She said that consecutive complaints/FIR's lodged in PS Channi Himmat since 17-08-21 have been disregarded. Likewise, several FIR's against Ex BJP MLA for conspiring and sponsoring attacks on her had been pushed under the carpet by a highly biased system."