JKNPP Protests Outside Residence Of Secretary Estates For Unauthorized Occupation Of Govt Bungalows
29 November, 2021, By

Cross Town News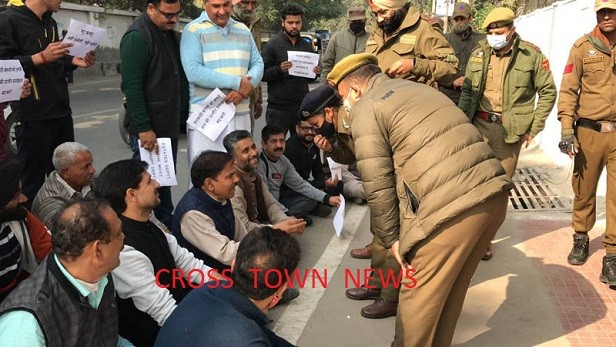 Jammu, Nov 28: Scores of Panther activists led by Harsh Dev Singh, chairman JKNPP staged a protest outside the residence of Secretary Estates alleging unauthorized occupation of Government bungalows by the workers of BJP and its allied parties to the exclusion of all other political parties.
While raising anti-BJP and anti-Estates Department slogans, the infuriated protesters sought immediate eviction of all unauthorized BJP and JKAP leaders from Government and Ministerial bungalows illegally occupied by them in collusion with corrupt officers of J&K.
They also torched the effigies of Estates Department and BJP for looting the tax payers' money in connivance.
The NPP workers sought immediate implementation of High Court orders on eviction of illegal occupants and recovery of penal rent from them as often parroted by the Government.
Harsh Dev said that it was shocking to note that BJP leaders who were not holding any position in Government and fell in common man's category were occupying not only 'Special Type', 'A-type' mansions but many of them were still living in Ministerial Bungalows.
He sought a high level probe preferably through CBI into the whole gamut of illegal allotments of Government bungalows & asked for punitive action against the officers who were acting more as BJP servants than public servants.