Dr. Sehrish Asks Officers To Involve SHGs In Income Generating Activities
14 October, 2021, By

Cross Town News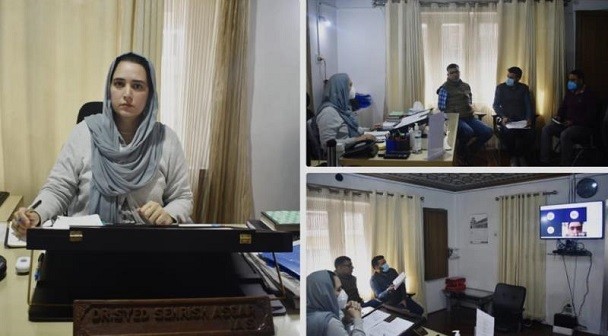 SRINAGAR, OCTOBER 13: Mission Director, Jammu Kashmir Rural Livelihoods Mission (JKRLM) Dr. Syed Sehrish Asgar today emphasized on the field officials of the Mission to involve Self Help Group (SHG ) members in income generating activities to sustain their livelihoods for all necessary support like capitalization and easy credit will be provided by the Mission.
While highlighting the need for door to door banking services to rural community, the Mission Director asked the officials that under Mission "One GP One DIGI-PAY" identify the locations in their respective gram panchayats so that DIGI-PAY Sakhi's can be engaged for banking services in these areas who can provide services to rural populace.
Dr. Sehrish further emphasized upon the officials to enroll SHG members under various social security schemes in the District besides asking them to organize special campaigns about Aadhaar seeding and opening of Prime Ministers Jan Dhan yojhna (PMJDY) accounts for individual members.
She impressed upon the Block Programme Mangers to identify the areas where infrastructure and marketing support can be enhanced.
During the meeting, the Mission Director was informed that 7227 Rural women have been federated into 844 SHGs and an amount of 4.2 crores has been provided to the SHGs as capitalization from the Mission.
Among others, the meeting was attended by Additional Mission Director, Kashmir, Riyaz Ahmad Beigh; State Project Managers, JKRLM, District Programme Managers, Block Programme Managers, MIS Assistants of District Ramban in person and through video conferencing.