Director AHD Jammu Asks To Explore The Possibilities Of Achieving Convergence Of The Departmental Schemes
11 October, 2021, By

Cross Town News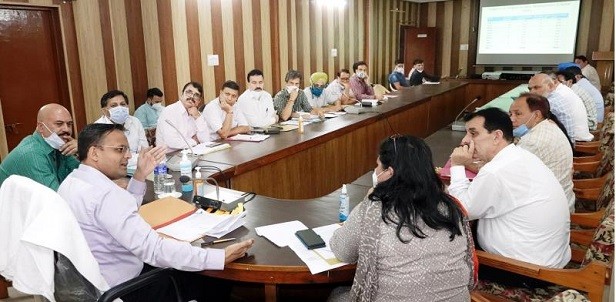 JAMMU, OCTOBER 11: Director, Animal Husbandry Jammu, Dr. Sagar D. Doifode today conducted a review meeting of all districts here at the conference hall of Animal Husbandry Complex Talab Tillo.
The meeting, among others, was attended by all the Joint Directors, Chief Animal Husbandry Officers of Jammu division, Deputy Director Planning, Deputy Director Poultry Superintendent Central Veterinary Hospital Talab Tillo, Superintendent Sub Divisional Veterinary Hospital RS Pura and Technical officers of the Directorate.
During the meeting review of physical and financial achievements under Capex, CSS and UT schemes were discussed in detail.
The Director took a detailed review of the implementation of various farmer-centric welfare schemes especially implementation of Integrated Dairy Development Scheme, Integrated Poultry Development Programme & Cattle feed Processing and Fodder Development Scheme.
The district officers were asked to explore the possibilities of achieving convergence of the departmental schemes with related schemes/ programmes in other departments like DIC, JKEDI, RDD to encourage the farmers for availing the benefits under various schemes in a hassle free manner.
They were further directed to organize a symposium cum awareness meet for youth at district headquarters on 18th of October after due consultation with concerned District Industries Centre and District Employment Exchange.
While reviewing the progress under CSS National Artificial Insemination Programme, the Director asked the district heads to take up the introduction of sex sorted elite semen within their districts at war footing so that farmers get benefitted by the latest reproductive technology in cattle and buffalo, through enhanced milk production.
It was impressed upon all the officers to develop a close rapport with the PRIs as well as with the district administration and generate maximum awareness at grassroots level so that the farmers' get fully acquainted with the departmental schemes.