Trees Are Vital For The Survival Of Our Planet As Trees Give Oxygen, Improve Air Quality, Store Carbon: Div Com Jammu
22 July, 2021, By

Cross Town News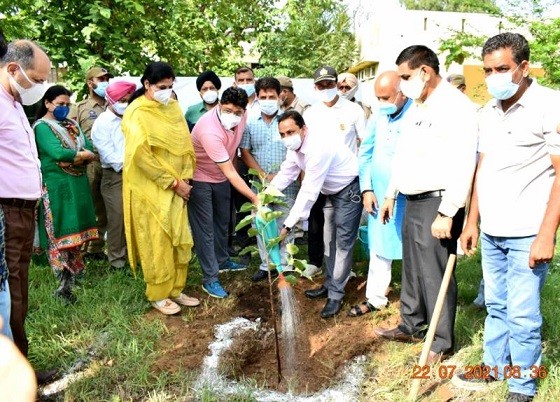 JAMMU, JULY 22: Divisional Commissioner Jammu, Dr Raghav Langer, Chairman, District Development Council, Bharat Bhushan, Mayor Jammu Municipal Corporation, Chander Mohan today planted trees for clean and green Jammu.
The Plantation drive was conducted in MAM college Jammu. Among others Deputy Mayor Jammu, Principal MAM college, Directors of Sericulture, Horticulture, Floriculture, Conservator of forest, DFO Urban, Jammu and other concerned officers were also present on the occasion.
While giving details the DFO Jammu informed that over 40 saplings of peepal tree were planted by the dignitaries on the occasion. He also informed that the forest department has fixed the target of 1.30 crores plantation in Jammu and Kashmir UT in current year.
The Div Com while speaking on the occasion said that trees are vital for the survival of our planet as trees give oxygen, improve air quality, store carbon, preserve soil, support wildlife and give life to our environment.
He also urged the general public to come forward and obtain saplings from the concerned departments and plant and nurture them for a clean and green Jammu. Chairman DDC also threw light on the importance of trees and said every human should plant a tree to contribute to making the environment green and clean. Mayor JMC said plantation of trees is the only solution to tackle climate change as trees are the natural cleaners of air.