Sarmad Hafeez Asks Tourism Unit Heads To Be Innovative In Promoting, Preserving Destinations
11 June, 2021, By

Cross Town News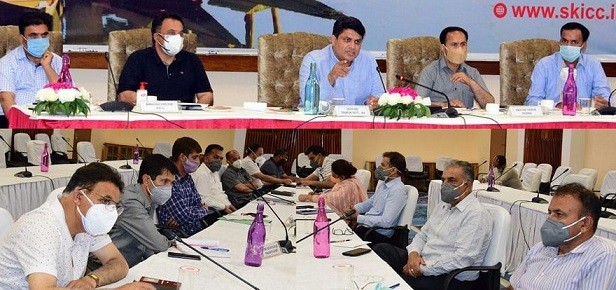 SRINAGAR, JUNE 11: Secretary, Tourism & Culture, Sarmad Hafeez today impressed upon all the heads of tourism units and bodies in Jammu & Kashmir to come up with innovative ideas to promote and preserve their destinations in particular and the UT in general.
Chairing a high-level review meeting here today, the Tourism Secretary asked the CEOs and Resort Officers to be innovative leaders to promote their destinations in the tourism market while preserving the ecology, environment and heritage of their destinations and properties.
In this regard, he emphasized on optimum use of manpower and their capacity building so that employees and workers are utlilised in a professional manner as per the need and the demand of the tourism market.
Sarmad Hafeez also directed the officers to update all the information related to tourist destinations on their websites for being the interface between the visitors and the Tourism department where people get information about the places, destinations and other spots related to tourism.
He said owing to its technical and professional nature, the tourism sector was selected as a priority sector by the government for inoculation so that as the COVID situation improves tourists are welcomed back without any hesitation.
He directed 100% inoculation of the staff by each unit at the earliest. The Tourism Secretary impressed upon the officers for the timely disposal of cases pertaining to the promotions and career advancement of their employees besides moving towards an online system of file movement.
He also asked the corporations to hold regular board meetings as prescribed in the board rules.