14000 Works To Be Completed By March End Under RDD: DC Doda
23 February, 2021, By

Cross Town News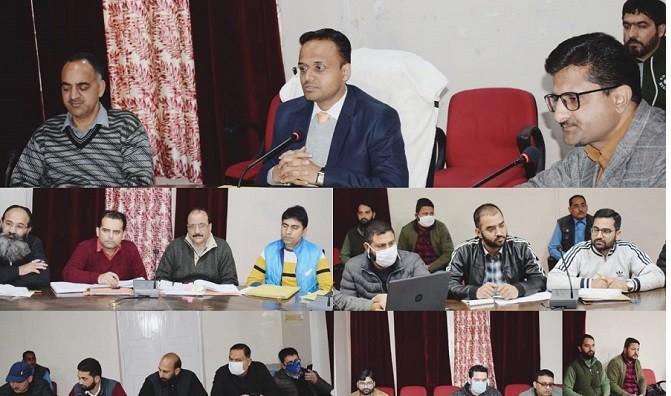 DODA, Feb 23: District Development Commissioner, Doda, Dr Sagar D Doifode today chaired a meeting to review the functioning of Rural Development Department and progress achieved under various flagship schemes including PMAY, MGNREGA, CD& Panchayat, RGSA,
The status of Adhaar seeding and Adhaar based payment were also discussed in the meeting.
Assistant Commissioner Development, Prem Singh Chib, briefed the meeting regarding the physical and financial achievements made under different schemes.
He also gave a resume on the payments as per T+8 module, Geo tagging, regeneration of pending transactions, uploading of material bills etc.
The DDC expressed satisfaction over the generation of 33 Lakh Person Days generated upto January. He informed the BDOs that the district is eyeing to generate 50 lakh PDs by the end of the current financial year and directed them to expedite the progress to achieve the target.
Regarding timely payment of wages, the DDC said that though the improvement has been shown and reached to 34.41%, but it should be further improved by coordinating with PRI members as per the T+8 module.
The DDC also directed the concerned to complete the pending works and complete the same by March end. He further directed to expedite the geo-tagging of the pending works of phase I and II.
Regarding Adhaar seeding, the ACD apprised the DDC that the department has touched 86% mark, while 48% payments are being made on adhaar basis.
The DDC directed the ADC to contact the concerned agency to achieve 100% adhaar seeding across the district by evaluating the area wise schedule. He also directed to push the linking of Adhaar progress of other service delivery sectors such as Social Welfare, Food Department etc.
Regarding Prime Minister Awas Yojana, it was informed that 12166 cases have been registered, of which 12120 have been sanctioned with verified accounts and till now 4252 houses have been completed.
Under RGSA scheme, 10 Panchayat Ghars have been sanctioned and work on 9 has been started with 3 targeted for completion this year.
The DDC set the timeline for completion of all pending works and impressed upon the BDOs and executing agencies to accelerate the pace of work in their respective areas by maintaining close coordination with the PRIs and field functionaries.
The meeting was attended by JD-Planning Parshotam Kumar; District Panchayat Officer, Mohammad Idrees Lone; Executive Engineer REW, Aftab Ahmed, Block Development Officers and other concerned.