J&K Revenue Officers Over Rule MHA's SO 3808?
13 January, 2021, By

Cross Town News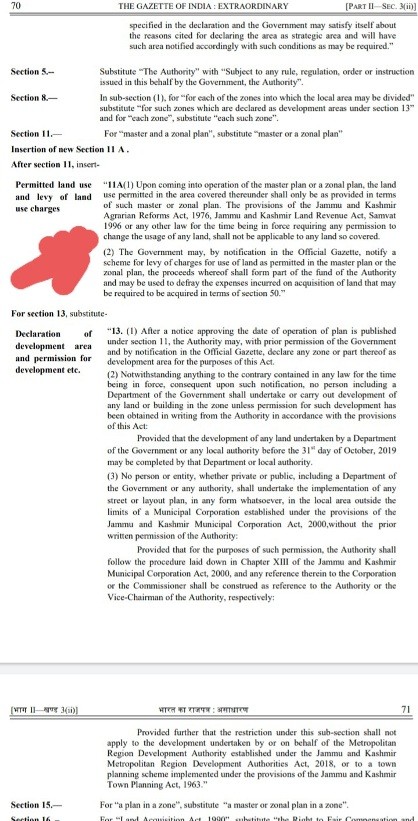 Rajesh Gupta
Jammu, Jan 12: Once up on a time bearing numbers WPPIL Nos. 19 of 2014 & 20 of 2013, c/w CPPIL Nos. 3 of 2013, 7 of 2013 & 4 of 2015 titled BALBIR SINGH & ORS. v. STATE OF J&K & ORS were filed in High Court regarding some encroachments along Tawi River etc etc & other matters related to & following which Hon'ble High Court accorded stay on issuance of fards/constructions on Gair Mumkin Khad nomenclature lands but thereafter on 12-02-2016 disposed of WPPIL's along with other connected MP's & contempt petitions & passed an order as:-
".............in the revenue record as also for preserving the sanctity of river Tawi from being polluted by the waste and toxic water emanating from authorized/unauthorized colonies alongside river Tawi by including stringent and effective measures, positively within a period of two months from today, strictly keeping in view the discussion/observations made herein above........
Till the time such policy/scheme is framed by the State Government, order dated 10th July, 2014 and status-quo with respect to such lands/khads shall remain in force".
.........As usual to play delay tactics no water policy was framed for a long in non compliance of time prescribed by Hon'ble High Court following which contempt no. CPPIL No. 08/2016 was filed, which was disposed on 31st October 2017 as policy was framed on 25th October, 2017 by which automatically the stay on Gair Mumkin Khads was vacated as order dated: 16.02.2020 but the bosses by adopting pick & choose issued permissions in such lands by their own means.
SRO 456 in Section 5(2) of the policy clearly speaks that Div Com/DC were to act as adjudicating officers to decide the issue of water source & water course etc etc but they preferred to close their eyes over the issue since 25th October 2017 to till date, which is causing a harassment to the concerned innocents by the negligence of such like bosses.
However, after issuing permissions by adopting pick & choose means, DC Office Jammu devised a Performa vide No. DCJ/SQ/fard-Khads/19-20/2828-39 dtd. 4.11.2019 & sought details for such plots & thereafter again despite appointed as adjudicating officer for the issue as per SRO-456 vide No. ADC/ADM/PS/19-20/1780-81 dtd: 07.01.2020 recommended 20 cases to FCR along with information on a devised Performa with all requisite NOCs from Flood Control & Revenue along with goggle map/status around 200 meters of the said plot, but which was again further forwarded to Pr Secretary Revenue on 19.06.2020 & till date final disposal of those cases are hanging in fire causing harassment to innocents.
One fine morning FCR vide No. FC-LS/Misc-288/2019-20 dated: 22.10.2020 communicated to Div Coms to cancel the permissions issued on such lands since only two years & other undesired matters related to by quoting rules of some Section 20-B of Land Abolition Act of 2007.
Pertinent to mention here that if enquired there shall be not even a single word whisper regarding any ban on Gair Mumkin Khads in the said Section 20-B but Section 3 of the said Act and had made free even banned lands in Municipal areas.
In the meanwhile, vide SO No 3808 dated: 26th October, 2020 MHA in Gazette of India repealed Revenue Acts of J&K & added Section 11-A in the Act on page no.70 regarding applicability of Revenue Acts of the J&K state in near future as were already in Section-3 of the Act of 2007 but the big bosses did not bothered to withdraw his illegal order dated: 22.10.2020.
On 04.11.2020, but written as 04.11.2011, Pr Secretary, Revenue in the meeting of Divisional Commissioners/Deputy Commissioners through video conferencing asked them to go through the new changes/provisions made in the Land Revenue Act by MHA, Govt of India vide S.O.No. 3808 dated: 26.10.2020, which is evident from para 7 of the minutes of meetings issued to all concern's.
It is very shocking to mention here that by over sighting the S.O. 3808 of MHA dtd. 26th October by which all Revenue Law/Acts of J&K were repealed other big Revenue boss, Div Com, Jammu Office forwarded FCR's communication dtd. 22.10.2020 to DC's on 4th November vide No; 502/SRO-Circular/20/6084 for compliance & following the footsteps of Office of Div Com, Jammu by superceeding MHA's SO 3808 , Office of DC Jammu after 22 days on another communication of FCR with same no/dt simply forwarded to SDM, South Jammu vide No.1826-27 dtd: 28.11.2020 for further necessary actions.
It raised a big question if top bosses are harassing the innocents for issuance of fards/constructions on such lands even in thick populated areas without any authority/orders in spite of vacation of stay by DB on Gair Mumkin Khads in WPPILs, what SDM or Tehsilar will decide ?
Pertinent to mention here that office of Hon'ble LG had also forwarded three enquiries followed by one more by Advisor(B) over the said issues to Pr Secretary, Revenue to report.
It clearly speaks ofderiliction of duties on the part of top revenue bosses, for non compliance of SO 3808 dtd.26th October, 2020 & section 11-A added as per the above snapshot raise a question over utility in administration and for public of J&K.